Kovalainen hopes Caterham Friday chance leads to F1 race return
| | |
| --- | --- |
| By Edd Straw | Thursday, April 18th 2013, 13:03 GMT |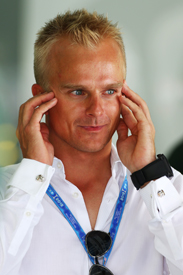 Heikki Kovalainen is confident that his return to Formula 1 as Caterham's reserve driver can act as a platform for him to regain a race seat in the future.
While the Finn ruled out any possibility of him replacing either Giedo van der Garde or Charles Pic, whose positions with the team are not under threat, he is hopeful that mileage in the car will boost his chances of a comeback.
"There are no plans to race for the moment," said Kovalainen when asked if this could lead to a full-time race return in the future.
"The plan at the moment is for me to drive on Fridays to help the team as much as I can.
"Of course, I want to race in the future and being here puts me in a better position if there was ever going to be a race drive available here or somewhere else, so that's good for me."
Kovalainen had previously ruled out taking up a reserve driver role with an F1 team after losing his race seat with Caterham.
But he admitted that he has changed his mind after not having driven an F1 car since last year's Brazilian Grand Prix.
"We talked about this [reserve role] for the first time a long time ago but at the very beginning I wasn't interested in this kind of role.
"But when you are sitting at home for a couple of months looking at other people driving, it makes you think you could have a go.
"Just before Malaysia, I had a chat with Tony [Fernandes, team owner] and asked if he thought I could still do something for the team and he said 'sure'.
"It came together relatively quickly."
KOVALAINEN TO START WITH EARLY-SPEC CAR
Kovalainen will drive Giedo van der Garde's car, which will not feature the upgrade package that Pic will run.
The Finn will then drive the fully-upgraded car in Friday morning practice for the Spanish Grand Prix next month.
"The first feedback the team wants to hear is the comparison from last year to this year," said Kovalainen.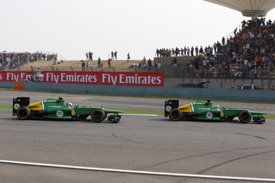 "The comments from the race drivers this year are that the car is not balanced.
"That is the first thing I will be looking for, to see if the car is balanced or out of balance and if there is anything we can do about it."
Caterham's race drivers welcomed Kovalainen's input.
"Heikki has been here in the past, it's good for the team to see where we are with the car, what the problems are," van der Garde told AUTOSPORT.
"It's not an easy car. I'm looking forward to his feedback tomorrow and what he thinks of it."