Formula 1 criticism is too extreme says McLaren's Martin Whitmarsh
| | |
| --- | --- |
| By Jonathan Noble | Tuesday, April 16th 2013, 12:12 GMT |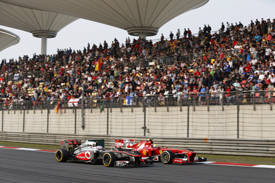 Formula 1 should not be too hard on itself over criticisms that its push for softer tyres has gone too far, says McLaren boss Martin Whitmarsh.
Although the Chinese Grand Prix featured a host of race leaders and numerous overtaking moves, the sport has come in for some criticism that the bid to create a spectacle has robbed F1 of some of its purity.
Pirelli has also changed its 'option' tyre allocation for this weekend's Bahrain Grand Prix, replacing the soft compound with the more durable medium.

AUTOSPORT opinion: it's not the end of the F1 world
Whitmarsh believes that although Pirelli could do with tweaking its current products, he thinks it is wrong to suggest that F1 needs a wholesale rethink.
"We can always make it better, and I hate it when drivers are out there and you know they are driving at nine tenths," he said. "That is not how I like F1.
"But the overall fact is that if you had done a straw poll around here [on who would win, before the race] we would have got six or seven answers. So that is good for the sport.
"Please, because I love F1, let's not write how bad F1 is. In F1, we do it for ourselves, we start saying 'this is terrible', and actually the show is not bad.
"I would rather have more durable tyres, but the show we have had for the last two or three years has been better than anything I have seen in 25 years of the sport.
"So all I ask is not get into complaining about F1. Complain about the tyres if you want, but not F1."

Have your say on the AUTOSPORT Facebook page
Red Bull team principal Christian Horner, whose outfit has been outspoken about the nature of the current tyres, again questioned whether durability runs were best for F1.
"We get accused of making a lot of noise about these things, but I don't think it is great for all the drivers to be cruising around at 70 per cent for large percentages of the race," he said.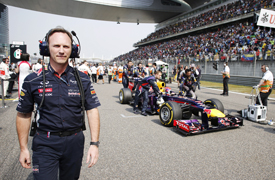 "They want to push and they want to drive as hard as they can. They don't want to drive percentages."

Mark Hughes' GP analysis: it's racing, but not as we knew it
Horner did admit, however, that it was hard to come up with tyres that would be good for both qualifying and the race.
"It is about finding the compromise between having an exciting qualifying and a good race," he said. "Sometimes it is difficult to achieve both."
PIRELLI NOT CONCERNED
Pirelli itself had no complaints about the spectacle of the Chinese GP, and its motorsport boss Paul Hembery expects similar races in the future.
"It was very good, particularly when you saw the coming together of second to fourth place which was a great result," he said.
"Ferrari really called all the pitstops perfectly. Fernando [Alonso] pushed in old Michael Schumacher style; getting the quick lap in when he needed and was able to build a 10-second cushion.
"But the others are very close. You had eight or nine seconds covering four cars, which is very interesting. And we had different strategies converging at the end.
"We're very close to having a lot of races like that and I'm quite sure we will see a lot more of that over the coming events."