| | |
| --- | --- |
| Riders welcome new MotoGP qualifying format | |
| | |
| --- | --- |
| | Friday, April 12th 2013, 16:33 GMT |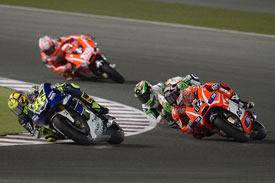 MotoGP riders believe the revised qualifying format has introduced a new tactical element and increased the chances of upsets.
The championship introduced a new split qualifying procedure, with the fastest practice riders going into a pole shoot-out, for the start of this year.
After capturing the first pole of the season at Losail, Jorge Lorenzo said the new system made qualifying more precarious for the frontrunners.
"It's different to last year," Lorenzo explained. "There are some risks - I think it's good.
"You have 30 minutes to work on the bike and the race pace, then you have four laps pretty much to have the best performance you can get for the grid."
Valentino Rossi, who put his seventh-place grid-spot down to catching traffic, said timing was key under the new format.
"You need to understand the way and study your strategy for being out at the right moment," he said.
"Some riders start in front [go on track early] and some wait a bit.
"Where you have more time on the shorter tracks, it will be easier.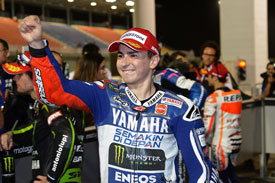 "When I came into the pits for my new tyres, I was 15 seconds behind Lorenzo. He goes out on his own and I go out 15 seconds later in a group of riders. And that [was] the difference [at Losail]."
Yamaha Tech 3 satellite rider Cal Crutchlow added that the changes have made qualifying more dramatic.
"I don't mind it," he said. "It's good for the spectacle and for the fans and riders.
"I don't care if there are 40 riders on track because there's always going to be guys getting in the way. If you make a mistake and hit them, they'll ask why."