Silverstone European F3: Harry Tincknell, Alex Lynn claim poles
| | |
| --- | --- |
| By Jamie O'Leary | Friday, April 12th 2013, 15:40 GMT |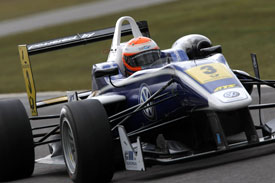 Harry Tincknell and Alex Lynn led a British domination of Formula 3 European Championship qualifying at Silverstone as each took pole positions for this weekend's races.
Carlin driver Tincknell was in a class of his own in the dry opening session that determined the grids for both of Saturday's races.
His 1m54.098s lap was easily enough to give the Dallara-Volkswagen driver pole for the opener by three tenths of a second from Lynn's Prema machine.
His second best lap was also faster than anybody else's best, ensuring he will also start from the front in race two.
With a brief but intense rain shower dousing the circuit during the short break between sessions, however, tyre choice became key for Q2.
While the whole field began the session on wets, a number of drivers - including Lynn and Tincknell's Carlin team-mate Jordan King - led the switch to slicks.
This paid dividends for Lynn as he took pole for Sunday's race in 2m03.859s with his final lap of the session to supplement his second and fourth grid spots for Saturday's races.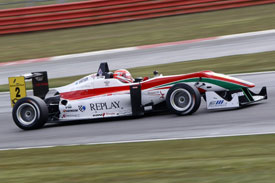 He was almost a second ahead of Prema team-mate Raffaele Marciello, who leads the championship. Mucke Motorsport's practice pace-setter Felix Rosenqvist was third.
Tincknell will start race three from seventh on the grid while Marciello's dry pace netted the Italian fourth and third spots for races one and two.
Pipo Derani's Q1 was affected when he was tagged by Sandro Zeller and lost the rear wing from his Fortec car, while Tom Blomqvist, 12th and 13th for Saturday's races, will start Sunday's encounter from the back of the grid after stopping on track early in Q2 and bringing out the red flags.
Race 1 grid:

Pos  Driver               Team/Car                    Time       Gap
 1.  Harry Tincknell	  Carlin Dallara-VW           1m54.098s
 2.  Alex Lynn            Prema Dallara-Merc          1m54.421s  + 0.323s
 3.  Felix Rosenqvist     Mucke Dallara-Merc          1m54.471s  + 0.373s
 4.  Raffaele Marciello   Prema Dallara-Merc          1m54.602s  + 0.504s
 5.  Nicholas Latifi	  Carlin Dallara-VW           1m54.728s  + 0.630s
 6.  Lucas Auer           Prema Dallara-Merc          1m54.783s  + 0.685s
 7.  Eddie Cheever        Prema Dallara-Merc          1m54.832s  + 0.734s
 8.  Will Buller          T-Sport Dallara-Nissan      1m54.936s  + 0.838s
 9.  Mans Grenhagen       Van Amersfoort Dallara-VW   1m54.977s  + 0.879s
10.  Pipo Derani          Fortec Dallara-Merc         1m55.058s  + 0.960s
11.  Jordan King          Carlin Dallara-VW           1m55.160s  + 1.062s
12.  Tom Blomqvist        EuroIntern'l Dallara-Merc   1m55.300s  + 1.202s
13.  Sven Muller          Ma-con Dallara-VW           1m55.348s  + 1.250s
14.  Dennis van de Laar   Van Amersfoort Dallara-VW   1m55.384s  + 1.286s
15.  Antonio Giovinazzi   Double R Dallara-Merc       1m55.481s  + 1.383s
16.  Josh Hill	          Fortec Dallara-Merc         1m55.628s  + 1.530s
17.  Mitchell Gilbert     Mucke Dallara-Merc          1m55.652s  + 1.554s
18.  Felix Serralles	  Fortec Dallara-Merc         1m55.677s  + 1.579s
19.  Jann Mardenborough   Carlin Dallara-VW           1m55.719s  + 1.621s
20.  Michael Lewis        Mucke Dallara-Merc          1m55.928s  + 1.830s
21.  Sean Gelael	  Double R Dallara-Merc       1m56.095s  + 1.997s
22.  Lucas Wolf       	  URD Dallara-Merc            1m56.467s  + 1.422s
23.  Roy Nissany          Mucke Dallara-Merc          1m56.725s  + 2.133s
24.  Gary Thompson    	  Ferraris Dallara-Merc       1m56.807s  + 4.643s
25.  Spike Goddard        T-Sport Dallara-Nissan      1m57.309s  + 5.548s
26.  Sandro Zeller    	  Zeller Dallara-Merc         1m58.426s  + 6.922s
27.  Andre Rudersdorf     Ma-con Dallara-VW           1m58.541s  + 2.834s
28.  Tatiana Calderon	  Double R Dallara-Merc       1m58.710s  + 5.324s

Race 2 grid:

Pos  Driver               Team/Car                    Time       Gap
 1.  Harry Tincknell	  Carlin Dallara-VW           1m54.129s
 2.  Felix Rosenqvist     Mucke Dallara-Merc          1m54.643s  + 0.514s
 3.  Raffaele Marciello   Prema Dallara-Merc          1m54.859s  + 0.730s
 4.  Alex Lynn            Prema Dallara-Merc          1m54.916s  + 0.787s
 5.  Nicholas Latifi	  Carlin Dallara-VW           1m54.922s  + 0.793s
 6.  Eddie Cheever        Prema Dallara-Merc          1m54.991s  + 0.862s
 7.  Lucas Auer           Prema Dallara-Merc          1m55.064s  + 0.935s
 8.  Will Buller          T-Sport Dallara-Nissan      1m55.066s  + 0.937s
 9.  Mans Grenhagen       Van Amersfoort Dallara-VW   1m55.128s  + 0.999s
10.  Pipo Derani          Fortec Dallara-Merc         1m55.159s  + 1.030s
11.  Jordan King          Carlin Dallara-VW           1m55.378s  + 1.249s
12.  Sven Muller          Ma-con Dallara-VW           1m55.402s  + 1.273s
13.  Tom Blomqvist        EuroIntern'l Dallara-Merc   1m55.405s  + 1.276s
14.  Dennis van de Laar   Van Amersfoort Dallara-VW   1m55.675s  + 1.546s
15.  Antonio Giovinazzi   Double R Dallara-Merc       1m55.687s  + 1.558s
16.  Josh Hill	          Fortec Dallara-Merc         1m55.699s  + 1.570s
17.  Felix Serralles	  Fortec Dallara-Merc         1m55.751s  + 1.622s
18.  Michael Lewis        Mucke Dallara-Merc          1m55.969s  + 1.840s
19.  Mitchell Gilbert     Mucke Dallara-Merc          1m55.985s  + 1.856s
20.  Sean Gelael	  Double R Dallara-Merc       1m56.371s  + 2.242s
21.  Jann Mardenborough   Carlin Dallara-VW           1m56.640s  + 2.511s
22.  Lucas Wolf       	  URD Dallara-Merc            1m56.737s  + 2.608s
23.  Spike Goddard        T-Sport Dallara-Nissan      1m57.427s  + 3.298s
24.  Tatiana Calderon	  Double R Dallara-Merc       1m58.794s  + 4.665s
25.  Roy Nissany          Mucke Dallara-Merc          1m58.816s  + 4.687s
26.  Sandro Zeller    	  Zeller Dallara-Merc         1m59.375s  + 5.246s
27.  Andre Rudersdorf     Ma-con Dallara-VW           1m59.676s  + 5.547s
28.  Gary Thompson    	  Ferraris Dallara-Merc       2m03.569s  + 9.440s

Race 3 grid:

Pos  Driver               Team/Car                    Time       Gap
 1.  Alex Lynn            Prema Dallara-Merc          2m03.859s
 2.  Raffaele Marciello   Prema Dallara-Merc          2m04.706s  + 0.847s
 3.  Felix Rosenqvist     Mucke Dallara-Merc          2m04.821s  + 0.962s
 4.  Jordan King          Carlin Dallara-VW           2m05.084s  + 1.225s
 5.  Will Buller          T-Sport Dallara-Nissan      2m05.221s  + 1.362s
 6.  Nicholas Latifi	  Carlin Dallara-VW           2m05.347s  + 1.488s
 7.  Harry Tincknell	  Carlin Dallara-VW           2m06.623s  + 2.764s
 8.  Lucas Auer           Prema Dallara-Merc          2m06.952s  + 3.093s
 9.  Dennis van de Laar   Van Amersfoort Dallara-VW   2m07.149s  + 3.290s
10.  Sven Muller          Ma-con Dallara-VW           2m07.605s  + 3.746s
11.  Gary Thompson    	  Ferraris Dallara-Merc       2m07.823s  + 3.964s
12.  Jann Mardenborough   Carlin Dallara-VW           2m08.173s  + 4.314s
13.  Michael Lewis        Mucke Dallara-Merc          2m08.447s  + 4.588s
14.  Lucas Wolf       	  URD Dallara-Merc            2m08.881s  + 5.022s
15.  Antonio Giovinazzi   Double R Dallara-Merc       2m08.953s  + 5.094s
16.  Josh Hill	          Fortec Dallara-Merc         2m09.033s  + 5.174s
17.  Spike Goddard        T-Sport Dallara-Nissan      2m09.098s  + 5.239s
18.  Eddie Cheever        Prema Dallara-Merc          2m09.607s  + 5.748s
19.  Felix Serralles	  Fortec Dallara-Merc         2m09.949s  + 6.090s
20.  Mans Grenhagen       Van Amersfoort Dallara-VW   2m10.112s  + 6.253s
21.  Pipo Derani          Fortec Dallara-Merc         2m10.736s  + 6.877s
22.  Sean Gelael	  Double R Dallara-Merc       2m10.841s  + 6.982s
23.  Mitchell Gilbert     Mucke Dallara-Merc          2m11.417s  + 7.558s
24.  Tatiana Calderon	  Double R Dallara-Merc       2m11.446s  + 7.587s
25.  Roy Nissany          Mucke Dallara-Merc          2m11.458s  + 7.599s
26.  Andre Rudersdorf     Ma-con Dallara-VW           No time
27.  Sandro Zeller    	  Zeller Dallara-Merc         No time
28.  Tom Blomqvist        EuroIntern'l Dallara-Merc   No time