Superstars Monza: Vitantonio Liuzzi heads Mercedes 1-2 on grid
| | |
| --- | --- |
| By Andrew van Leeuwen | Saturday, April 6th 2013, 17:55 GMT |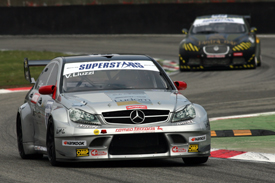 Vitantonio Liuzzi stormed to pole position for the first Superstars International Series race of the season at Monza.
The Romeo Ferraris Mercedes driver was in a class of his own throughout the half-hour session, setting the benchmark time of 1m54.208s just 10 minutes in.
While team-mate Thomas Biagi did his best to chase down Liuzzi's time, the former BMW driver was forced to settle for second place with a best of 1m54.538.
For a long time it looked as if only the two Romeo Ferraris cars would break into the 1m54s, but with just a few minutes remaining in the session Luigi Ferrara set a 1m54.817s, securing third spot.
Gianni Morbidelli was the best of the rest, nabbing fourth in the relatively underpowered Audi Sport Italia RS5 with a 1m55.452s.
Andrea Larini was fifth, ahead of Francesco Sini, Andrea Bacci and Giovanni Berton.
For reigning champion Johan Kristoffersson, the session was a disaster. The Swede completed one troubled out-lap before parking his Petri Corse Porsche with an engine problem.
Qualifying times

Pos Driver                    Car               Time       Gap
 1. Vitantonio Liuzzi         Ferraris Mercedes 1m54.208s
 2. Thomas Biagi              Ferraris Mercedes 1m54.538s  + 0.330s
 3. Luigi Ferrara             Roma Mercedes     1m54.817s  + 0.609s
 4. Gianni Morbidelli         Audi Italia       1m55.452s  + 1.244s
 5. Andrea Larini             Ferlito Jaguar    1m56.338s  + 2.130s
 6. Francesco Sini            Solaris Chevrolet 1m56.357s  + 2.149s
 7. Andrea Bacci              CAAL Mercedes     1m56.622s  + 2.414s
 8. Giovanni Berton           Dinamic BMW       1m56.652s  + 2.444s
 9. 'Diablolik'               Ferlito Jaguar    1m57.052s  + 2.844s
10. Mauro Trentin             Dinamic BMW       1m47.451s  + 3.243s 
11. Leonardo Baccarelli       CAAL Mercedes     1m57.588s  + 3.380s
12. Max Mugelli               Dinamic BMW       1m57.629s  + 3.421s     
13. Roberto Benedetti         RC Cadillac       1m57.772s  + 3.565s  
14. Max Fantini               Petri Porsche     1m57.813s  + 3.605s       
15. Gianni Giudici            Giudici BMW       1m58.415s  + 4.207s
16. Francesco Ascani          Todi BMW          1m59.202s  + 4.994s
17. Ferdinando Geri           Audi Italia       2m01.099s  + 6.891s
18. Johan Kristoffersson      Petri Porsche     No time
19. Alessandro Battaglin      MRT Lexus         No time