Brazil in new push for World Rally Championship date
| | |
| --- | --- |
| By David Evans | Wednesday, April 3rd 2013, 15:58 GMT |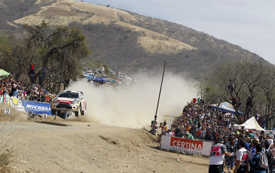 Brazil could rejoin the World Rally Championship in 2014 if a new project by the Rally Mexico organisers comes to fruition.
WRC stakeholders are all pushing for a second South American round.
Gilles Spitalier, the director of the successful Mexican WRC event says a series of high-level meetings have already taken place in an effort to take the WRC to Sao Paolo.
"What we are offering is what we have learned from being in the WRC for the last 10 years," said Spitalier.
"Brazil is a Latin country with a lot of similarities with Mexico and there are some fantastic places to compete.
"I said to Michele [Mouton, WRC manager] that we could hold the whole season in Brazil, there are so many diverse roads there....
"We have been working on this a long time and now we're waiting on answers to see if we can make the candidate event this year, but it could happen for next season and everybody wants it to happen.
"With Rio holding the World Cup and the Olympics, Sao Paolo is more likely. Don't forget the economy of Sao Paolo as a state is very, very wealthy - and many of the European car manufacturers have plants out there."
Brazil last ran a round of the WRC in 1982.