Nogaro GT Series: WRT Audi team secures one-two in main race
| | |
| --- | --- |
| By Gary Watkins | Monday, April 1st 2013, 14:36 GMT |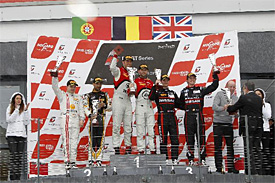 The WRT Audi squad took a one-two victory in the main race at the Nogaro FIA GT Series event on a day that the Belgian team gained revenge over Sebastien Loeb Racing.
WRT Audi R8 LMS ultra initially crossed the line in the top three positions, only for the winners on the road, Rene Rast and Nikolaus Mayr-Melnhof, to receive a 30s penalty for a pitlane infraction during the mandatory mid-race pitstops.
The penalty, received because the Audi's engine was not switched off during the pitstop, promoted the second-place WRT Audi driven by Frank Stippler and Edward Sandstrom and demoted Rast and Mayr-Melnhof to eighth overall and second in the Pro-Am class.
WRT's domination of the results followed a penalty for McLaren MP12-4C driven by Sebastien Loeb and Alvaro Parente.
Mayr-Melnhof had trailed Loeb through the opening stint without the R8 LMS ultra dropping much more than a second off the lead.
The Austrian closed the gap to half a second before the pitstops and then a faster turnaround in the pits allowed Rast to just get out of the pits before Alvaro Parente, who had taken over from Loeb one lap before, came past.
Rast held on for a lap before he ran slightly wide into Turn 4 and misjudged move from Parente resulted in the McLaren tipping the Audi into a spin.
The Audi dropped 3.5s off the lead, but Rast needed just seven laps to chase down that deficit and was looking for a way past when the McLaren was called into the pits for a drive-through penalty.
The penalty was not for Parente's misdemeanour but for a pitlane infraction by Loeb: he had loosened and then undone his belts before stationary during is pitstop.
That allowed Rast to cross the line 11 seconds clear of Sandstrom.
Stippler and Sandstrom came through from the back of the grid after retiring from the Qualifying Race when a fuse blew and prevented the car from re-starting.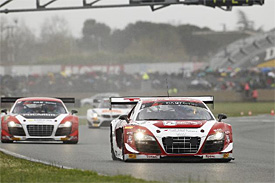 Stippler made up ground early in the race and then another quick pitstop by Vincent Vosse's WRT squad propelled Sandstrom into fourth place.
The Swede homed in on the Charouz Gravity Mercedes SLS AMG driven by Alon Day, who shared the car with Maximilian Buhk, but was unable to find a way past until he pulled off an opportunistic move into Turn 9 with 12 minutes to go.
The third WRT Audi, shared by Stephane Ortelli and Laurens Vanthoor, sneaked into third place on the road after Vanthhor passed two cars on the penultimate lap.
Parente dropped to fifth as the result of his penalty and then lost out to Vanthoor. He and Loeb subsequently dropped to 13th in the results when they were docked 30s for Parente's clash with Rast.
Pos Driver                Team/Car                     Time/Gap
 1. Stippler/Sandstrom    WRT Audi                    1h00m25.029s
 2. Ortelli/Vanthoor      WRT Audi                     + 8.041s
 3. Buhk/Day              Gravity Charouz Mercedes     + 8.950s
 4. Kumpen/Ide            Phoenix Audi                 + 10.085s
 5. Viera/Campanico       Novadriver Audi              + 15.248s
 6. Mayr-Melnhof/Rast     WRT Audi                     + 18.050s
 7. Ordonez/Buncombe      RJN Nissan                   + 18.637s
 8. Baumann/Proczyk       GRT Lamborghini              + 31.438s
 9. Bueno/Khodair         Team Brazil                  + 34.599s
10. Chandhok/Seyffarth    Seyffarth Mercedes           + 35.056s
11. Zuber/Parisy          Loeb McLaren                 + 36.407s
12. Loeb/Parente          Loeb McLaren                 + 41.035s
13. Zonta/Jimenez         Team Brazil BMW              + 53.581s
14. Reip/Shulzhitskiy     RJN Nissan                   + 1m08.511s
15. Stumpf/Ricci          ACL Ford                     + 1m15.160s
16. Afanasiev/Simonsen    Gravity Charouz Mercedes     + 1m23.670s
17. Keilwitz/Kentenich    Doerr McLaren                + 1m24.393s
18. Ebrahim/Jousse        Team India BMW               + 1 lap
19. Beaubelique/Ayari     SOFREV ASP Ferrari           + 1 lap
20. Tonelli/Barthez       SOFREV ASP Ferrari           + 1 lap
21. Charouz/Stovicek      Gravity Charouz Mercedes     + 2 laps
22. Mascarello/Tozzo      ACL Ford                     + 2 laps