Roger Penske wants NASCAR-style leadership for IndyCar
| | |
| --- | --- |
| By Mark Glendenning | Friday, March 29th 2013, 10:27 GMT |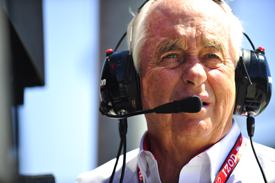 IndyCar's recent propensity for scandal and infighting can be eliminated if the series strengthens its leadership, according to team boss Roger Penske.
The series has enjoyed competitive fields and excellent racing over the past few years, only to have it overshadowed by managerial instability and bickering over issues such as costs of parts.
Penske, who runs leading teams in both IndyCar and NASCAR, believes that the former could learn a lot from the no-compromise approach taken by NASCAR chairman Brian France.
"We've never had a strong enough leader as they do in NASCAR," Penske said.
"They say, 'Hey, guys, here's the rules, here's how we're going to race. Guess what? If you don't like it you can park your car outside and sit in the stands'.
"And that's what we need. We need some leadership. And I think that we can develop that as we go forward over the next 12 months."
Former IndyCar CEO Randy Bernard was a popular figure among fans but a divisive one in the paddock prior to his split from the series late last year.
No permanent replacement for Bernard has yet been named, with Indianapolis Motor Speedway CEO Jeff Belskus having been given the role on an interim basis immediately after Bernard's departure, and former ATP boss Mark Miles having taken up the CEO position at IndyCar and IMS parent company Hulman & Co.
While Miles was previously a Hulman & Co board member, the active involvement that he is taking in shaping IndyCar's future strategy represents his most hands-on motorsport interest to date.
ENCOURAGED BY MILES
Penske said that he is impressed by Miles's business experience, and says that their initial meetings have left him feeling confident about the future.
"I think the owners have got to think about how do we drive the series," he said. "Mark, he's reached out to us, which is good. I was a fan of Randy's. I think just unfortunately, the way things worked out, it was not the time for him to stay.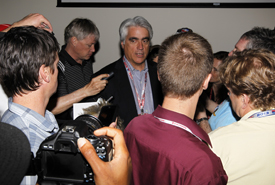 "Mark has a much higher leadership position I think. Hopefully, he'll make decisions timely and effectively, which will help the series this year."
Miles attended last weekend's season-opening race in St Petersburg, and said that he is hopeful that the common desire among the team owners to see the series do well can overcome any lingering divisions.
"The product is great," Miles said. "Whether it's drivers or team owners, they all have individual concerns, but they're absolutely united around their common desire to grow the IndyCar series.
"They want clarity and they want leadership and I think that they can be a cohesive, aligned industry, [or] sport. And we're doing the things that we have to do right now to get that clarity and get everybody on the same page."