Kristoffersson to defend SStars crown with Petri Corse
| | |
| --- | --- |
| | Thursday, March 28th 2013, 12:15 GMT |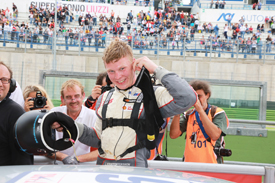 2012 International Superstars champion Johan Kristoffersson will return to the series and defend his crown in a Petri Corse-run Porsche Panamera.
Kristoffersson won four times en route to last year's crown, which he secured by just four points from former Formula 1 pilot Vitantonio Liuzzi.
The Porsche Panamera last ran in the series in 2010, when Fabrizio Giovanardi won four times.
"It's definitely a new challenge," Kristoffersson said. "I liked how the team works immediately as they're very professional and straightforward.
"In the last few days we worked on the seat and pedal fittings. It won't be easy to have an opinion after just a few laps but I think I'll definitely have some fun this season.
"Now we are getting focused in preparing for the first race which is really close. I will try the best I can to defend my title."
Alongside Kristoffersson, the Petri squad will run Massimiliano Fantini in a sister Panamera.
"We're working really hard to make the car very competitive," team manager Simone Petri reported.
"Monza is our second test after Cremona, where we had focused on the set-up.
"Now we also have to work on the engine although the car is expect to perform better on the most technical circuits - we know it won't be easy here at Monza. After his first laps, we also asked Kristoffersson for some advice."
Francesco Sini was fastest in his Solaris Motorsport-run Chevrolet Camaro in Superstars collective testing at Monza. Andrea Larini, who moves from Mercedes to Jaguar in 2013, was second.