Hamilton: Red Bull's Vettel/Webber team row is of its own creation
| | |
| --- | --- |
| | Tuesday, March 26th 2013, 11:07 GMT |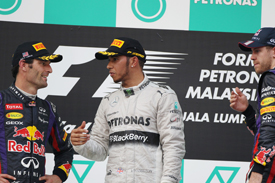 Lewis Hamilton says Red Bull only has itself to blame for the 'multi 21' team orders controversy at the Malaysian Grand Prix.
The 2008 world champion believes the team's favouring of Sebastian Vettel, even if the German does not officially have number one status, has led to the simmering tension between the German and his team-mate Mark Webber.
Vettel and Webber's relationship has soured before, notably in 2010 when they crashed in Turkey and three races later when the team took a new front wing design off Webber's car and handed it to Vettel.
Webber then ignored an order to hold station a year later in the British Grand Prix.
"Red Bull has a clear one and two, they always have. And that is why they have always had the problems they have had," Hamilton told British newspaper reporters.
"We don't have a one and two at Mercedes. I have always said, from the moment I was speaking to the team, that I wanted equality [with Nico Rosberg].
"They didn't offer me to be favoured but I just wanted to make the point that I am not a driver that comes and requests that like a lot of other drivers do."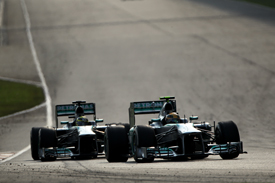 Hamilton said that insistence on equality was one of the reasons he did not rejoice in his Malaysian podium.
The Briton was the beneficiary of team orders when Mercedes instructed Nico Rosberg to back off in the closing laps of the race.
"You have to be able to look at yourself in the mirror [and say] you won fair and square," Hamilton explained.
"In Malaysia I don't feel like I won my spot fair and square. Although I did drive a decent race, I don't feel spectacular about it."