Denny Hamlin diagnosed with back fracture after Joey Logano clash
| | |
| --- | --- |
| By Sam Tremayne | Monday, March 25th 2013, 19:42 GMT |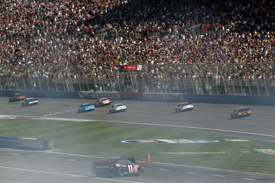 Denny Hamlin has been diagnosed with a fractured back following his collision with Joey Logano at the end of the Fontana NASCAR Sprint Cup race.
Hamlin and Logano were fighting for the lead at the final corner when contact pitched both men into the wall.
Hamlin hit the inside barrier head-on, the impact such that all four wheels of his Joe Gibbs Toyota left the ground.
While he initially signalled that he was alright, once out of the car Hamlin had to be stretchered off the track. He was then airlifted to hospital.
Doctors confirmed on Monday that Hamlin has suffered a L1 compression fracture.
A team statement said he hopes to be released and fly home to North Carolina today, with further evaluations to follow later in the week.
There was no immediate word on how long Hamlin could be out, or whether surgery will be required.
Hamlin and Logano had clashed one week earlier at Bristol, with Logano convinced Hamlin cost him a shot at victory.
Speaking in the immediate aftermath of the Fontana crash, before the severity of Hamlin's injury became clear, Logano said: "He probably shouldn't have done what he did last week, so that's what he gets."
In the same race Logano was lambasted by Tony Stewart, who said the Penske man needed to 'learn a lesson' following his defensive driving at the race's final restart.