James Hinchcliffe hopes IndyCar win proves commitment
| | |
| --- | --- |
| By Mark Glendenning | Monday, March 25th 2013, 15:27 GMT |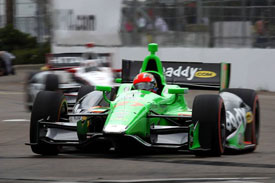 James Hinchcliffe hopes that his maiden IndyCar victory at St Petersburg will silence some of the doubters from earlier in his career, when he suspects that his light-hearted persona was interpreted as not taking his job seriously.
After holding held off veteran Helio Castroneves to secure the win, the Canadian said that the manner of the victory should put any lingering questions about his commitment to rest.
"I've always tried to be myself at the racetrack," he said. "I think some people at some points in my career thought that maybe I wasn't taking my job seriously enough, or something like that.
"But when you look at the last three laps of this race, the pressure we were under, I made a couple tiny little errors. But to bring it all back, keep our head down [and] hold off a guy like Helio, hopefully it proves that you can be a joker off the track but still get the job done on it."
Hinchcliffe started last year strongly before fading over the final few races, and while encouraged by his St Petersburg success, he insists that it is too early for himself - or anybody - to be considered a championship contender.
"It is race one," he said. "There are 18 to go. It's too early to call anybody a contender or rule anybody out.
"[Winning] is a good place to start. To be a contender in this series is all about consistency: you cannot make mistakes. It's so competitive, there are so many guys willing to pounce on anything you do wrong; whether it's in the pits, making a bad set-up call or a driving error, people are going to take advantage of that.
"I think the guy or girl at the end of the year that makes the least mistakes with the team on the whole will be the guys you're going to see hoisting the championship trophy."