Fontana NASCAR: Kyle Busch wins as Joey Logano and Denny Hamlin clash
| | |
| --- | --- |
| By Connell Sanders Jr | Sunday, March 24th 2013, 22:29 GMT |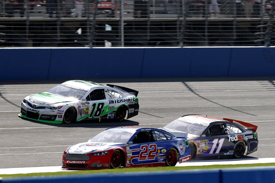 Kyle Busch snatched victory in the Fontana NASCAR Sprint Cup race as bitter foes Joey Logano and Denny Hamlin collided fighting for the lead on the last lap.
Former Joe Gibbs Racing team-mates Hamlin and Logano, the latter now at Penske, had become embroiled in a fierce row after a tangle at Bristol a week ago.
They then ended up head to head for victory at Fontana, beginning the final lap side by side, only to clash at Turn 3.
Logano slid into the outside wall while Hamlin made heavy head-on contact with the inside barrier. Hamlin got out of his car unaided but was suffering from lower back pain and was taken to hospital for observation.
There was further drama to come post-race, as Logano was accosted in the pitlane by an enraged Tony Stewart, who he blocked at the final restart.
Busch and Logano had dominated most of the race, working their way back to the front whatever strategies others employed.
They appeared vulnerable at the last restart with 10 laps to go as most cars behind had just pitted for fresh tyres.
Hamlin was the fastest of that group, charging to the front to begin his fateful battle with Logano.
Busch swept around both as they banged doors, and his Gibbs Toyota was clearly ahead even before they spun.
Dale Earnhardt Jr recovered from a slow mid-race pitstop to finish second for Hendrick, claiming the points lead as Jimmie Johnson and an overheating Brad Keselowski could only manage 12th and 23rd respectively.
Kurt Busch fought for the lead several times and was initially credited with third for Furniture Row.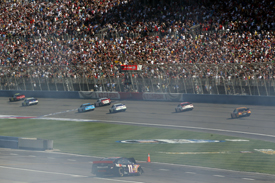 NASCAR later reviewed video footage of the wild finish and ruled that Logano's battered car had crossed the line third rather than the initially listed sixth, and dropped Busch to fifth.
Busch was one of several drivers who needed repairs early on after sliding into the wall on oil from Timmy Hill's wilting Ford.
Roush Fenway duo Carl Edwards and Greg Biffle completed were fourth and sixth, the latter despite starting at the back due to an engine change, with early leader Matt Kenseth seventh.
Results - 200 laps:

Pos  Driver              Team/Car                         Time/Gap
 1.  Kyle Busch          Gibbs Toyota                 2h57m19.000s
 2.  Dale Earnhardt Jr   Hendrick Chevrolet               + 1.261s
 3.  Joey Logano         Penske Ford                      + 2.475s
 4.  Carl Edwards        Roush Fenway Ford                + 2.600s
 5.  Kurt Busch          Furniture Row Chevrolet          + 2.759s
 6.  Greg Biffle         Roush Fenway Ford                + 2.810s
 7.  Matt Kenseth        Gibbs Toyota                     + 3.481s
 8.  Paul Menard         Childress Chevrolet              + 4.113s
 9.  Kasey Kahne         Hendrick Chevrolet               + 4.265s
10.  Ryan Newman         Stewart-Haas Chevrolet           + 4.505s
11.  Jeff Gordon         Hendrick Chevrolet               + 4.941s
12.  Jimmie Johnson      Hendrick Chevrolet               + 5.274s
13.  Kevin Harvick       Childress Chevrolet              + 5.819s
14.  Aric Almirola       Petty Ford                       + 5.912s
15.  Casey Mears         Germain Ford                     + 6.187s
16.  AJ Allmendinger     Phoenix Chevrolet                + 6.579s
17.  Jeff Burton         Childress Chevrolet              + 7.158s
18.  Martin Truex Jr     Waltrip Toyota                   + 8.314s
19.  Jamie McMurray      Earnhardt Ganassi Chevrolet      + 8.995s
20.  Ricky Stenhouse Jr  Roush Fenway Ford                + 9.440s
21.  Dave Blaney         Baldwin Chevrolet               + 14.476s
22.  Tony Stewart        Stewart-Haas Chevrolet          + 24.608s
23.  Brad Keselowski     Penske Ford                     + 27.944s
24.  David Ragan         Front Row Ford                  + 43.650s
25.  Denny Hamlin        Gibbs Toyota                     + 1 lap*
26.  Danica Patrick      Stewart-Haas Chevrolet            + 1 lap
27.  JJ Yeley            Baldwin Chevrolet                 + 1 lap
28.  Bobby Labonte       JTG Daugherty Toyota              + 1 lap
29.  David Gililland     Front Row Ford                   + 2 laps
30.  Landon Cassill      Circle Sport Chevrolet           + 6 laps
31.  David Stremme       Swan Toyota                      + 7 laps
32.  Joe Nemechek        NEMCO Toyota                     + 7 laps
33.  David Reutimann     BK Toyota                       + 8 laps*
34.  Travis Kvapil       BK Toyota                       + 12 laps
35.  Clint Bowyer        Waltrip Toyota                 + 16 laps*
36.  Marcos Ambrose      Petty Ford                      + 18 laps
37.  Mark Martin         Waltrip Toyota                  + 21 laps
38.  Juan Pablo Montoya  Earnhardt Ganassi Chevrolet     + 31 laps

* Not running at finish

Retirements:
     Timmy Hill          FAS Lane Ford                    108 laps
     Josh Wise           Front Row Ford                   103 laps
     Scott Riggs         Xxxtreme Ford                     66 laps
     Michael McDowell    Parsons Ford                      60 laps
     Mike Bliss          Humphrey Smith Toyota             44 laps