Brazilian GP could return to Rio, Bernie Ecclestone suggests
| | |
| --- | --- |
| | Sunday, March 24th 2013, 05:08 GMT |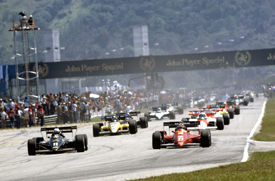 The Brazilian Grand Prix could switch to Rio de Janeiro within the next three years, suggests Bernie Ecclestone.
With Interlagos' facilities being no match for many of the current venues on the calendar, Ecclestone says he is eager for a change of location.
In an interview with The Mail on Sunday, Ecclestone reckoned that there was a possibility for Rio de Janeiro to reclaim the grand prix for 2016, the same year the city will be holding the Olympics.
"The mayor has told me they can get it done," said Ecclestone.
"I have been unhappy with Sao Paulo for a long time. It's a super race track, but the facilities need a big facelift.
"We could be there [Rio] for Olympic year, but I know how hard it was for London to run just the Olympics."
Rio held the Brazilian GP through the 1980s, before the race moved back to the revamped Interlagos in 1991.
But Rio's previous grand prix venue Jacarepagua was demolished as part of preparations for the Olympics in the city.