Ollie Jackson and Michael Caine join 32-car BTCC field
| | |
| --- | --- |
| By Jamie O'Leary | Thursday, March 21st 2013, 10:02 GMT |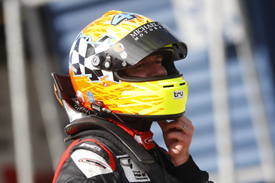 Ollie Jackson and Michael Caine have secured late entries for the British Touring Car Championship.
British GT champion Caine (pictured) will drive an NGTC-spec Ford Focus for Motorbase Performance, his campaign starting at Donington Park's second round of the season in April.
Caine drove an S2000 Focus for the same team in two rounds of the 2011 season.
Jackson, meanwhile, will drive Speedworks Motorsport's second NGTC-spec Toyota Avensis alongside fellow team newcomer Dave Newsham.
Jackson, 28, made his BTCC debut at Silverstone in 2011 in a Triple 8-run Vauxhall Vectra and spent last year racing AmD Tuning's Volkswagen Golf.
His best BTCC results so far are a trio of eighth places.
Both drivers were announced as part of a 32-car capacity entry list unveiled by series organiser TOCA at Donington Park on Thursday.
Daniel Welch also confirmed he will return to the series this season, driving an NGTC Proton.
The Welch Motorsport squad had already confirmed it will run and S2000 Ford Focus for David Nye. Now Welch, who finished 15th in the standings in 2012 with the Proton, completes the two-car line-up.
"It's great for continuity, with the same team and with the Proton," he said. "Hopefully it will be a good year.
"We didn't make the podium last season, but we know some of the problems and this year we're going for a win."
2013 British Touring Car line-up:

Team                   Car                Drivers
Honda (Team Dynamics)  Honda Civic        Gordon Shedden/Matt Neal
MG (Triple 8)          MG6                Jason Plato/Sam Tordoff
Motorbase Performance  Ford Focus         M Jackson/A Smith/L Griffin/M Caine
WSR                    BMW 125 M          C Turkington/R Collard/N Foster
Team HARD              VW Passat          Tom Onslow-Cole/Howard Fuller
                       Vauxhall Insignia  Jack Goff/James Cole
Speedworks Motorsport  Toyota Avensis     Dave Newsham/Ollie Jackson
Ciceley Racing         Toyota Avensis     Adam Morgan
IP Tech                Chevrolet Cruze    Andy Neate/TBA
AmD Tuning             VW Golf            James Kaye
Rob Austin Racing      Audi A4            Rob Austin/Will Bratt
Eurotech Racing        Honda Civic        Andrew Jordan/Jeff Smith
Dynojet                Toyota Avensis     Frank Wrathall
Welch Motorsport       Proton Gen-2       Dan Welch
                       Ford Focus         David Nye
BTC Racing             Chevrolet Cruze    Chris Stockton
Team BMR               SEAT Leon          Warren Scott
Wood                   Vauxhall Vectra    Lea Wood
Tech-Speed/Finesse     Chevrolet Cruze    Joe Girling