Denny Hamlin calls off appeal against NASCAR criticism fine
| | |
| --- | --- |
| | Friday, March 15th 2013, 03:47 GMT |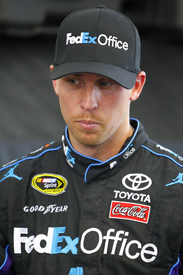 Denny Hamlin has withdrawn his appeal against being fined for criticising the quality of NASCAR Sprint Cup racing this season.
The Joe Gibbs driver is still refusing to pay the $25,000 penalty, but NASCAR has ruled that it will be deducted from his prize money winnings this season.
Hamlin had been punished by NASCAR for declaring in a post-race interview at Phoenix that the new Gen 6 car was making overtaking much harder.
In a statement on his Twitter feed on Thursday, Hamlin announced that he preferred to bring the matter to a close so would drop the appeal.
"After a lot of thought I have decided not to appeal the fine NASCAR has issued," he said.
"Dragging myself, my team and NASCAR through the mud for the next two weeks would not be good for anyone.
"I firmly believe I am in the right on this issue and will stand behind my decision not to pay. I understand NASCAR will do what they feel is necessary based on my decision."
NASCAR said there would be no further action beyond collecting the fine payment through withheld prize money.