FR3.5 testing: Antonio Felix da Costa takes charge on day two
| | |
| --- | --- |
| By Glenn Freeman | Saturday, March 9th 2013, 19:37 GMT |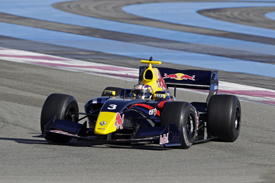 Antonio Felix da Costa dominated the second day of Formula Renault 3.5 testing at Paul Ricard on Saturday, leading the way by half a second.
The Red Bull junior driver came out on top in a frantic finish to the test, as teams closed out their running in France with qualifying simulations.
Arden Caterham driver da Costa had also led the way in the wet morning session, where his best lap was one second clear of his closest challenger.
FR3.5 rookie Stoffel Vandoorne, who had topped both of the pre-season test days so far this year for Fortec, ended the day second, just ahead of Arthur Pic and Kevin Magnussen.
Sam Bird, who was brought in for this test to help ISR's 2013 preparations, rounded out the top five.
The Briton had shone in the morning, managing the fourth fastest time despite completing around a third of the laps of most of the other frontrunners.
Marco Sorensen was next up, while Draco team-mates Nico Muller and Andre Negrao were together in the order for the second day running to complete the top eight.
Morning times:

Pos  Driver                  Team            Time       Gap       Laps
 1.  Antonio Felix da Costa  Arden Caterham  2m02.528s            39
 2.  Marco Sorensen          Lotus           2m03.573s  + 1.045s  36
 3.  Zoel Amberg             Pons            2m04.717s  + 2.189s  32
 4.  Sam Bird                ISR             2m04.941s  + 2.413s  12
 5.  Jazeman Jaafar          Carlin          2m05.399s  + 2.871s  35
 6.  Oliver Webb             Fortec          2m05.699s  + 3.171s  30
 7.  Pietro Fantin           Arden Caterham  2m05.820s  + 3.292s  30
 8.  Marlon Stockinger       Lotus           2m06.114s  + 3.586s  35
 9.  Sergey Sirotkin         ISR             2m06.154s  + 3.626s  40
10.  Stoffel Vandoorne       Fortec          2m06.206s  + 3.678s  32
11.  Nigel Melker            Tech 1          2m06.583s  + 4.055s  34
12.  Norman Nato             DAMS            2m06.686s  + 4.158s  34
13.  Andre Negrao            Draco           2m06.732s  + 4.204s  17
14.  Nikolay Martsenko       Pons            2m06.817s  + 4.289s  21
15.  Will Stevens            P1              2m06.820s  + 4.292s  32
16.  Kevin Magnussen         DAMS            2m06.859s  + 4.331s  33
17.  Lucas Foresti           Comtec          2m06.933s  + 4.405s  13
18.  Nick Yelloly            Zeta            2m06.994s  + 4.466s  29
19.  Matias Laine            P1              2m07.329s  + 4.801s  27
20.  Yann Cunha              AV              2m07.621s  + 5.093s  36
21.  Nico Muller             Draco           2m07.897s  + 5.369s  20
22.  Daniil Move             Comtec          2m08.211s  + 5.683s  21
23.  Mihai Marinescu         Zeta            2m08.786s  + 6.258s  33
24.  Carlos Huertas          Carlin          2m08.872s  + 6.344s  22
25.  Mikhail Aleshin         Tech 1          2m09.470s  + 6.942s  8
26.  Arthur Pic              AV              2m09.629s  + 7.101s  10
27.  Daniel Zampieri         Zeta

Afternoon times:

Pos  Driver                  Team            Time       Gap       Laps
 1.  Antonio Felix da Costa  Arden Caterham  1m46.425s            38
 2.  Stoffel Vandoorne       Fortec          1m47.007s  + 0.582s  43
 3.  Arthur Pic              AV              1m47.134s  + 0.709s  35
 4.  Kevin Magnussen         DAMS            1m47.184s  + 0.759s  45
 5.  Sam Bird                ISR             1m47.278s  + 0.853s  27
 6.  Marco Sorensen          Lotus           1m47.375s  + 0.950s  39
 7.  Nico Muller             Draco           1m47.393s  + 0.968s  39
 8.  Andre Negrao            Draco           1m47.497s  + 1.072s  36
 9.  Norman Nato             DAMS            1m47.650s  + 1.225s  38
10.  Lucas Foresti           Comtec          1m47.655s  + 1.230s  19
11.  Jazeman Jaafar          Carlin          1m47.733s  + 1.308s  34
12.  Sergey Sirotkin         ISR             1m47.964s  + 1.539s  37
13.  Daniil Move             Comtec          1m48.009s  + 1.584s  47
14.  Nigel Melker            Tech 1          1m48.022s  + 1.597s  40
15.  Pietro Fantin           Arden Caterham  1m48.099s  + 1.674s  45
16.  Zoel Amberg             Pons            1m48.117s  + 1.692s  39
17.  Carlos Huertas          Carlin          1m48.125s  + 1.700s  31
18.  Oliver Webb             Fortec          1m48.142s  + 1.717s  27
19.  Will Stevens            P1              1m48.381s  + 1.956s  28
20.  Mikhail Aleshin         Tech 1          1m48.392s  + 1.967s  23
21.  Daniel Zampieri         Zeta            1m48.394s  + 1.969s  31
22.  Nikolay Martsenko       Pons            1m48.405s  + 1.980s  45
23.  Matias Laine            P1              1m48.554s  + 2.129s  28
24.  Marlon Stockinger       Lotus           1m48.923s  + 2.498s  33
25.  Yann Cunha              AV              1m49.827s  + 3.402s  29
26.  Mihai Marinescu         Zeta            1m49.944s  + 3.519s  53
27.  Nick Yelloly            Zeta