Felix Rosenqvist stays in European Formula 3 with Mucke
| | |
| --- | --- |
| By Jamie O'Leary | Monday, February 18th 2013, 08:30 GMT |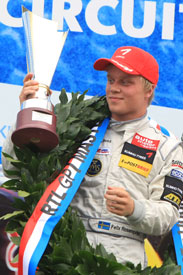 Felix Rosenqvist will continue in the Formula 3 European Championship with Mucke Motorsport this year.
The 21-year-old Swede will partner his 2012 team-mate Pascal Wehrlein plus series newcomers Mitchell Gilbert and Roy Nissany in a move that expands Mucke's entry to four cars.
"It's been a long winter with several flattering offers to consider, but at the end of the day, there is no doubt in my mind that this is the best option for my career," said Rosenqvist.
"The Formula 3 European Championship will ensure that all the best F3 teams and drivers race side-by-side in a united and strong series, and that is highly compelling to me.
"The competition will be even tougher than previously, but - on the back of our results at the end of last year – my sole target has got to be to win as many races as possible.
"I'm here to fight for the title."
Rosenqvist has raced in the category since 2010, and moved up from German F3 to European competition the following season.
He finished third in European F3 last year with Mucke and added to his wins in the final three races of the season by taking second place at the Macau Grand Prix. Rosenqvist also became the first Swede to win the Masters of Formula 3 in 2011.
Team principal Peter Mucke said: "Felix is exceptionally fast and fits in perfectly with the team on a human level, and he is definitely one of the favourites for the FIA Formula 3 European Championship title.
"We now have an ideal package in place for the new season, and I'm convinced that our four drivers will complement each other and drive the team forwards."
2013 European F3 Championship line-up so far:

Team               Car             Drivers
Prema Powerteam	   Dallara-Merc	   Lynn/Auer/Marciello/Cheever
Mucke          	   Dallara-Merc	   Gilbert/Nissany/Wehrlein/Rosenqvist
Carlin         	   Dallara-VW  	   TBA/TBA
Ma-con Motorsport  Dallara-VW  	   Andre Rudersdorf/TBA
URD Rennsport  	   Dallara-Merc	   TBA
Jo Zeller Racing   Dallara-Merc	   TBA/TBA
Fortec Motorsport  Dallara-Merc	   Felix Serralles/Pipo Derani/TBA/TBA
Van Amersfoort 	   Dallara-VW  	   Dennis van de Laar/Mans Grenhagen/TBA
EuroInternational  Dallara-VW  	   Tom Blomqvist/TBA
T-Sport        	   Dallara-Nissan  Spike Goddard/Will Buller