Engine-change penalty system stays as IndyCar reveals 2013 rules
| | |
| --- | --- |
| By Matt Beer | Thursday, January 24th 2013, 09:41 GMT |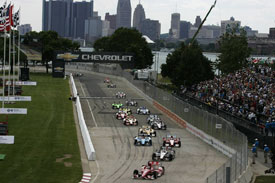 IndyCar's engine-change penalty system will remain in place for the 2013 season, despite moves to change it.
With the return of manufacturer rivalry under the new-for-2012 technical package, IndyCar ruled that drivers exceeding the five-engines-per-season limit or changing engines before the minimum mileage threshold must take 10-place grid penalties.
This led to a large number of penalties through the year, most notably in Long Beach, where all Chevrolet-powered cars needed precautionary engine switches.
IndyCar technical chief Will Phillips admitted that the series had held talks about changing the system but the consensus was that grid penalties should stay.
"Our engine regulations were created to ensure cost-containment measures for both the manufacturers and teams, and those will continue in 2013," said Phillips.
"We looked at a variety of options to potentially replace our unapproved engine change penalty, seeking feedback from the teams and manufacturers.
"After careful consideration and heavy debate, we believe our best option was to continue with the 10-spot grid penalty.
"We feel it is important to continue to be consistent with this penalty for both the long and short term."
Among other tweaks in the final version of the 2013 IndyCar rules, the points distribution at the tail of the field has been adjusted so that drivers classified between 19th and 25th no longer all score the same, and anyone deemed guilty of blocking in qualifying will be prevented from moving onto the next segment as well as losing their two fastest times.