IndyCar and Dallara reach deal over spares costs
| | |
| --- | --- |
| By Mark Glendenning | Thursday, January 17th 2013, 22:04 GMT |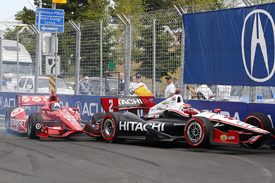 IndyCar and Dallara have reached an agreement to freeze the cost of spare parts for the coming season.
The price of Dallara spares will be held at a 14 per cent reduction of their original cost until March 15, 2014.
Series officials estimate that the freeze could save teams $50,000 per full-time entry, although it is lower than the 20 per cent across-the-board reduction that was offered, and rejected by the teams, last year.
Click here for AUTOSPORT's July 2012 investigation into the IndyCar cost row
IndyCar's Brian Barnhart told AUTOSPORT last year that it was important that the cost of spares be cut across the board, rather than limited to Dallara, although it is not yet clear whether the reductions will be applied more broadly.
"Our responsibility in listening to the owners is, we've got to reduce expenses," Barnhart said in Toronto last July. "And we have got to find ways to do that with every manufacturer and supplier we have, not just Dallara."
It is the second cost-reduction initiative to have been introduced since the end of the 2012 season, with the series having previously confirmed a reduction in the number of permitted test days during '13.
The costs associated with running a DW12 chassis was one of the main thorns in the relationship between former CEO Randy Bernard and the team owners, who claimed that the price of spares had proven to be as much as 40 per cent higher than they had been promised.