Ten teams sign up for new GT Sprint Series
| | |
| --- | --- |
| By Gary Watkins and Jamie O'Leary | Thursday, January 10th 2013, 12:54 GMT |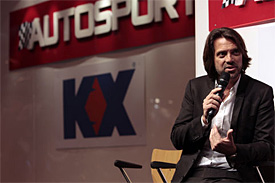 Ten teams have committed to Stephane Ratel's new GT Sprint Series, which replaces the GT1 World Championship this year.
Former world champion squad Vita4One will run BMW machinery while WRT, Phoenix, SUNRED and Novadriver will field Audis.
Sebastien Loeb Racing will run McLarens, with Reiter campaigning Lamborghinis and Heico Gravity Charouz bringing Mercedes.
ProSpeed and Rodrive/Lambda will run Porsche and Ford machinery respectively.
Ratel said that the success of the GT3 category, which will form the basis of the series, made the decision to push ahead with the series an easy one.
"It's probably our biggest achievement," said Ratel on the AUTOSPORT Stage with KX at AUTOSPORT International on Thursday.
"You can look through the history books and you'll never find an international category with 14 manufacturers - as it will be when the Bentley comes in - represented before.
"It's going to be very exciting."
Joining Ratel on stage was Cesar Campanico, team boss of the Novadriver squad.
He said that his outfit's graduation to the series would not have been possible without the restructuring of the series.
"We've done the last four years in FIA GT3, which was a European championship, as it was the only series regulated by the FIA for the category.
"We did well last year and finished fourth, but even with that, it would be impossible to step up to GT1 World because of the budgets involved.
"In the sprint series, we can do well, I hope, in the Pro-Am category, and maybe get in the top 10 overall.
"And with the Balance of Performance working as it does, everything is even for everyone."