Bernie Ecclestone says F1 likely to have 19 grands prix in 2013
| | |
| --- | --- |
| By Pablo Elizalde | Wednesday, December 12th 2012, 15:13 GMT |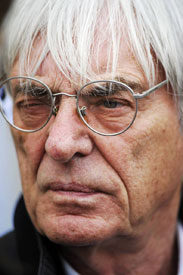 Bernie Ecclestone says Formula 1 is likely to have only 19 grands prix next year, but admits he is still waiting on a possible return to Turkey.
The calendar was left with 19 races after it was announced the planned New Jersey Grand Prix would be postponed until 2014.
Turkey has been in talks with Ecclestone and its motorsport body said it had a deal, but that a final decision was up to the government.
Although Red Bull has said it is open to the idea of having a GP at Spielberg, Ecclestone said he had not actually discussed the plan with anyone.
"Right now I think we will have only 19 grands prix next year. That wouldn't be a big problem for Formula 1," Ecclestone told Austria's Kleine Zeitung newspaper.
"Right now I'm thinking more about Turkey so we return to Istanbul."
When asked about the possibility of hosting a race in Austria, Ecclestone said: "I have not talked about this with anyone."
Last week, the FIA announced it had moved the 2013 German GP forward in order to slot in another Europe-based event.