Kevin Magnussen tops first Formula Renault 3.5 test day at Aragon
| | |
| --- | --- |
| By Glenn Freeman | Thursday, November 22nd 2012, 09:49 GMT |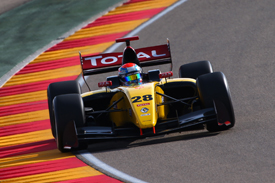 Kevin Magnussen set the pace on the first day of Formula Renault 3.5 testing at Aragon on Wednesday.
The McLaren Formula 1 test driver, who finished seventh in the FR3.5 championship this year with Carlin, was back in action with DAMS for the second time this winter.
Magnussen set the quickest time of the day in the final hour, as he, Italian F3 champion Riccardo Agostini and Will Stevens knocked Carlos Sainz Jr off the top of the timesheets.
Sainz, who only ran for the afternoon session, was in action for new team AV Formula, which has replaced Team RFR for the winter tests with a view to joining the championship next year.
Next up was Formula Renault ALPS champion Daniil Kvyat. The Red Bull-backed Russian was in action for Arden Caterham, and he had Macau Grand Prix winner Antonio Felix da Costa on hand to offer advice.
Sixth quickest Norman Nato made sure three of the drivers getting 'prize' tests for their achievements in other junior categories were in the top six on the first day of the test, which continues on Thursday and Friday.
This year's champion Robin Frijns was testing a 2013 development car for the series organisers. He was not timed.
Day one times:

Pos  Driver                  Team            Time       Gap
 1.  Kevin Magnussen         DAMS            1m39.915s
 2.  Riccardo Agostini       Draco           1m40.349s  + 0.434s
 3.  Will Stevens            P1              1m40.371s  + 0.456s
 4.  Carlos Sainz Jr         AV              1m40.433s  + 0.518s
 5.  Daniil Kvyat            Arden Caterham  1m40.453s  + 0.538s
 6.  Norman Nato             Tech 1          1m40.540s  + 0.625s
 7.  Sergey Sirotkin         ISR/Tech        1m40.561s  + 0.646s
 8.  Raffaele Marciello      Fortec          1m40.703s  + 0.788s
 9.  Carlos Huertas          Carlin          1m40.762s  + 0.847s
10.  Nikolay Martsenko       Fortec          1m40.868s  + 0.953s
11.  Zoel Amberg             Pons            1m40.897s  + 0.982s
12.  Yann Cunha              AV              1m40.987s  + 1.072s
13.  Gianmarco Raimondo      Draco           1m40.997s  + 1.082s
14.  Marco Sorensen          Lotus           1m41.042s  + 1.127s
15.  Paul-Loup Chatin        Tech 1/Comtec   1m41.070s  + 1.155s
16.  Lucas Foresti           Comtec          1m41.075s  + 1.160s
17.  Oliver Rowland          P1              1m41.241s  + 1.326s
18.  Luciano Bacheta         Pons            1m41.273s  + 1.358s
19.  Pietro Fantin           Lotus           1m41.276s  + 1.361s
20.  Stoffel Vandoorne       DAMS            1m41.321s  + 1.406s
21.  Jack Harvey             Carlin          1m41.389s  + 1.439s
22.  Josh Hill               ISR             1m41.606s  + 1.474s
23.  Jake Dennis             Lotus           1m41.652s  + 1.737s
24.  Niccolo Schiro          AV              1m41.762s  + 1.847s
25.  Will Buller             Comtec          1m41.852s  + 1.937s
26.  Jimmy Eriksson          ISR             1m42.217s  + 2.302s
27.  Jordan King             BVM Target      1m42.387s  + 2.472s
28.  Matias Laine            Arden Caterham  1m42.541s  + 2.626s