Timo Scheider rules out leaving Audi for Mercedes DTM line-up
| | |
| --- | --- |
| By Rene de Boer and Jamie O'Leary | Monday, November 5th 2012, 14:19 GMT |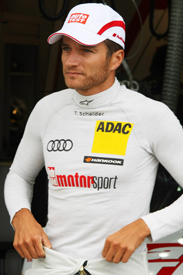 Timo Scheider will remain with Audi in next year's DTM, putting to bed speculation that he would join rival manufacturer Mercedes.
The two-time series champion wrote on his Facebook page that the rumours of a switch were untrue and that he has agreed to remain with the Ingolstadt manufacturer.
"I, Timo Scheider, will remain 100 per cent loyal to Audi," he wrote. "I want to put that straight."
The 33-year-old German has endured a tough pair of seasons and has won only once since his back-to-back title years in 2008-09. He finished 14th in this year's drivers' championship.
But he believes that staying with Audi, for which he has raced since 2006, will give him the best chance of regaining his crown in the future.
"Yes, we've had some difficult times, but these are just the ones during which you have to remain together the most.
"I had the biggest success of my career with Audi and there should be a couple more coming.
"I/we will continue to fight. That is certain. I still want at least one more title."