Dario Franchitti joins brother Marino at Level 5 for Petit Le Mans
| | |
| --- | --- |
| | Saturday, September 29th 2012, 10:08 GMT |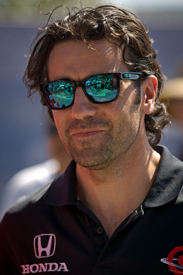 Dario Franchitti will race a Le Mans prototype for the first time since 2009 when he joins the Level 5 LMP2 squad for Petit Le Mans at Road Atlanta in October.
The three-time Indianapolis 500 winner and four-time IndyCar champion will share one of the Level 5 HPD-ARX-03bs with younger brother Marino, who raced for the squad at Petit in 2011, and team boss Scott Tucker, in the 1000-mile American Le Mans Series finale on October 20.
It will be the elder Franchitti's first start in an LMP prototype since racing for the Highcroft Acura team at the same event in 2009.
The Franchittis have been brought in for the ALMS finale to bolster Level 5's chance of winning the P2 title. Tucker, as usual, will race both Level 5 cars, sharing the other entry with team regulars Christophe Bouchut and Luis Diaz.
Level 5 team manager Dave Stone said: "Marino did a really good job for us last year. Since we were looking at driver line-ups for this year, the thought about Dario came up.
"His Indy season is over for the year, and he had told his brother he might come down and hang out like he did last year. I just had the thought, 'Well, you're not racing and you're going to be here anyway, what would you think about driving with us?'"
Tucker and Bouchut head the P2 points by 16 points over Conquest Morgan-Nissan team-mates Martin Plowman and David Heinemeier Hansson.