Singapore GP: Senna escaped penalty because he was using normal racing line
| | |
| --- | --- |
| By Jonathan Noble | Sunday, September 23rd 2012, 18:22 GMT |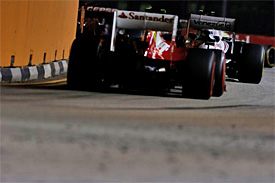 Bruno Senna escaped a penalty for his clash with Felipe Massa in the Singapore Grand Prix because he had been taking his normal racing line rather than defending his position.
The Williams driver was investigated by the stewards during the Singapore GP for having banged wheels with Massa on the run from Turn 12 to 13 as they battled for position in the race.
Massa was angry with his compatriot because he felt that he had been unfairly squeezed after pulling alongside him.
However, the stewards believed that Senna had not done anything wrong because he had not appeared to deliberately move across.
An FIA spokesperson told AUTOSPORT: "Examination of video evidence of numerous cars on numerous laps, at the same point on the track, showed that Senna appeared to be taking his normal line on the lap when Massa was drawing alongside him.
"It was concluded that Senna was not 'defending' his position on a straight as reference in document TM/006 - 12 (pre-British GP driving clarification).
"It appeared that as soon as Senna was aware of the presence of Massa on his left, he moved to the right, thereby allowing Massa to overtake him."
Massa was unimpressed, however, that Senna was not punished for what he felt was a breach of the regulations.
"The only thing I know is that I was completely on his side and he pushed me in the wall," said Massa.
"So after everything that happened in Bahrain everything started there, and as I know they changed the rules – so if you have a car alongside then you cannot close [the door] which is what happened today."