BTCC Rockingham: Vauxhall privateer Lea Wood plans Silverstone return after missing weekend
| | |
| --- | --- |
| By Kevin Turner | Sunday, September 23rd 2012, 11:19 GMT |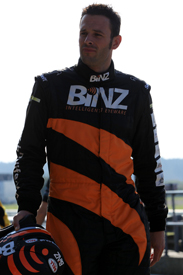 British Touring Car racer Lea Wood is planning to return to the series at Silverstone next month, despite missing this weekend's Rockingham round.
Wood currently lies 13th in the BTCC standings in his family-run S2000 Vauxhall Vectra, but sponsorship issues have forced him to miss the Rockingham meeting.
"There's a bit of a re-organisation going on with [sponsor] Binz so we've had to sit one out," said Wood.
"It's a bit of a shame because you don't want to miss any, but it's about looking at the bigger picture."
Wood also hopes the re-organisation will help him secure a 2013 campaign.
"One way or another we'll be out for 2013."
Wood is not the only regular missing Rockingham. Welch Motorsport announced earlier this week that it would not compete at the Northamptonshire venue.