Suspension failure caused Vergne's crash during the Italian Grand Prix
| | |
| --- | --- |
| By Jonathan Noble | Thursday, September 13th 2012, 14:28 GMT |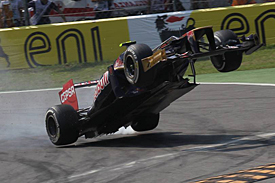 Jean-Eric Vergne's spectacular crash in the Italian Grand Prix was caused by a rear suspension failure, his Scuderia Toro Rosso team has confirmed.
The Frenchman crashed at the first chicane on lap nine of the race - and his car was launched into the air before smashing back down to the ground and spinning to a halt.
His team was unsure of the exact cause of the incident immediately after the race, but investigations back at its Faenza base have ruled out driver error.
"After the race, we established it had been a failure with the rear suspension," Vergne wrote on Toro Rosso's official website. "In the end you just have to put it down as one of those things that happen when you go racing."
Vergne escaped serious injury in the accident, but has revealed that he is still feeling sore this week.
"I do feel pretty stiff across my back and neck but I think that will go away over the next day or so and I'll get on with what is going to be a pretty busy schedule until Singapore," he said.
"It's a shame that it happened. It's easy to say this after the fact, but I do think we could have had a pretty good race in Monza."