Experience key for Sergio Perez if he is to deliver for Ferrari, says Sauber
| | |
| --- | --- |
| By Jonathan Noble | Tuesday, September 11th 2012, 10:32 GMT |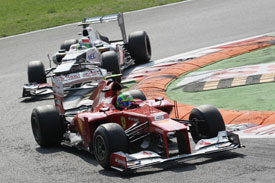 Sergio Perez could still do with more experience before he is ready to deliver for a team like Ferrari, according to his current outfit Sauber.

Sauber CEO Monisha Kaltenborn reckons that Perez's inconsistent form through 2012 is simply down to a lack of experience, but she is convinced that he can be a winner in Formula 1.

Perez was one of the stars of the Italian Grand Prix, as he charged through the field to finish just behind race winner Lewis Hamilton.

Although that performance has renewed speculation that he could be on his way to Ferrari next season, Kaltenborn thinks there are still areas that the Mexican needs to improve.

"We mustn't forget that it is just his second season," Kaltenborn told AUTOSPORT when asked about the reasons for Perez's up-and-down campaign.

"I think what is very important is that he is a very talented driver, and has been from the beginning. That was the reason why we took him up, despite all the criticism we got.

"Then you have to give him the competitive tools because that is only where he can show things.

"Often the races were just spoiled by factors that were not under our control. So he is going through a learning curve: and that really tells you that if things are alright he can deliver these top performances.

"But he also makes mistakes; the team makes mistakes. It is a mix of everything. You still need a lot of experience to get to a very consistent and constant level."

Although Perez has finished on the podium three times this year - in Malaysia, Canada and Italy – he has also failed to score points in seven out of the 13 races.

Earlier this year Ferrari president Luca di Montezemolo said Perez was not yet experienced enough for his Maranello outfit, although the team continues to help him out through its young driver programme.

When asked if she believed di Montezemolo's stance still stood, Kaltenborn said: "I cannot judge what is right for Ferrari and what standard you have to have there.

"All I can say for us is that we have seen in the past that you do need time, and you have to look at a longer period before you can judge situations better and do the right thing.

"Sometimes you can be hasty in situations and make mistakes, and that is part of learning. So, we will see what happens with regards to our drivers.

"We have no reason to rush to make a decision. I am relaxed, as I was two months ago."

Perez is at Maranello on Tuesday for meetings with Ferrari's young driver academy that were scheduled well before his Monza performance.