Superstars title contender Johan Kristoffersson handed performance boost
| | |
| --- | --- |
| By Jamie O'Leary | Thursday, September 6th 2012, 10:07 GMT |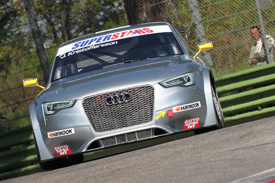 Superstars title contender Johan Kristoffersson has been handed a performance boost ahead of the final three rounds of the season.

The championship has changed its Balance of Performance settings for the first time since 2004 in order to close the gap in pace between the fastest and slowest cars in the series.

Among the changes is the increase in air restrictor size to 85mm for the Audi RS5s, which are driven by Kristoffersson, and Gianni Morbidelli.

Kristoffersson is currently 19 points behind series leader Vitantonio Liuzzi, and has six races remaining to catch the Mercedes driver.

The Jaguar XFRs, as raced by Ferlito Motors, have been given a 25kg weight break and an increase in the boost level of their superchargers from 0.55 bar to 0.70.

Meanwhile the Lexus ISF - which will be given its series debut next time out in the hands of MRT driver Michele Faccin - and the BMW M3, have had 20kg removed from its base weight.

The series has also approved the homologation of the Mercedes C63 AMG Coupe, which Roma Racing will run in the final three rounds.