Spa GP2: Race stopped after Nigel Melker's crash damages barriers
| | |
| --- | --- |
| By Charles Bradley | Saturday, September 1st 2012, 14:19 GMT |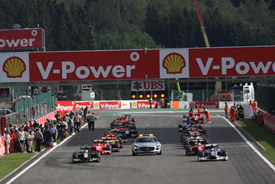 The Spa-Francorchamps GP2 feature race has been red-flagged after Ocean driver Nigel Melker crashed into the tyre wall at Raidillion.
Melker lost control on the exit of the Eau Rouge sequence, and simply ran out of room to recover the slide before he impacted the tyres at full speed.
Melker attempted to get out of the car, but appeared unable to do so.
Rescue crews then dealt with him, and he was transported to the medical centre in an ambulance.
After a spell behind the safety car, the race was red-flagged to allow for the tyre wall to be rebuilt.