IndyCar shelves push-to-pass delay for Baltimore
| | |
| --- | --- |
| By Mark Glendenning | Wednesday, August 29th 2012, 19:31 GMT |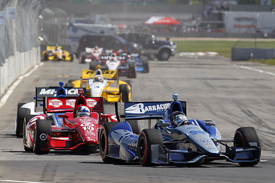 The unpopular activation delay on IndyCar's push-to-pass system has been dropped for this weekend's race in Baltimore.
The series reintroduced push-to-pass in Toronto in early July, with activation delays of 5s and 3.5s used at Mid-Ohio and Sonoma respectively.
However the delays were met with widespread criticism from drivers, with some pointing out that the system was no longer useful when defending, and others highlighting problems with trying to successfully time the overtaking assist's use before it was inadvertently deactivated by their lifting of the throttle.
"We've had two races without the activation delay and two races with it," IndyCar director of engine development Trevor Knowles said. "Based on driver feedback, we're adjusting the parameters of push to pass to fit this particular circuit."
Drivers will have access to a total of 90s of push-to-pass at Baltimore, with a maximum of 20s per activation. The system gives drivers access to an additional 160 kPa of turbo boost and 200rpm when engaged.