Morgan gets first prototype win as OAK triumphs in Donington Park European Le Mans Series race
| | |
| --- | --- |
| By Gary Watkins | Sunday, July 15th 2012, 19:20 GMT |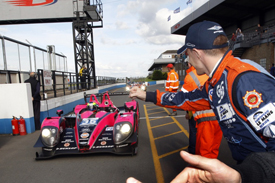 Morgan notched up its first victory in the prototype ranks in Sunday's Donington Park round of the European Le Mans Series.
OAK Racing's Morgan-Nissan LMP2 2012 driven by Bertrand Baguette, Dimitri Enjalbert and Olivier Pla triumphed at the end of six exciting hours of racing around the 2.49-mile Leicestershire circuit. They came out on top by 21 seconds over the TDS Racing ORECA-Nissan 03 shared by Mathias Beche and Pierre Thiriet.
Morgan entered into a partnership with the OAK team ahead of the season, resulting in its Pescarolo-based LMP2 design carrying the British car maker's badges. The Donington triumph was its first international race victory since its double success at the Silverstone round of the 2009 FIA GT3 European Championship with the Aero 8 Supersports.
The race looked set for a three-way fight to the flag between the winning Morgan, the TDS entry and the similar Murphy Prototypes ORECA-Nissan shared by Warren Hughes, Brendon Hartley and Jody Firth. The trio were separated by just three seconds with 90 minutes of the race left to run.
The battle broke up when Hughes spun at the Old Hairpin shortly after taking the lead when Thiriet pitted to hand over to his team-mate. Beche was then awarded a 30s stop-go penalty for speeding in the pitlane, paving the way for OAK's Morgan to take a clear victory.
Baguette said: "The car was good, quick and consistent. It was a great race for us."
The Murphy ORECA ended up third ahead of the Sebastien Loeb Racing ORECA-Nissan 03 driven by Stephane Sarrazin, Nicolas Minassian and Nicolas Marroc. It lost time at the start of the race when Marroc spun to avoid a serious collision with Soheil Ayari in the AF Corse-run Pecom Ayari and then with gear selection problems.
The Jota Zytek-Nissan Z11SN driven by Sam Hancock and Simon Dolan was also in contention for the first three hours. Hancock ran a close second for the first two stints and Dolan was running in the same position and closing on leader Enjalbert when he crashed out after getting on the kerbs on the exit of the Old Hairpin.
The JMW Ferrari squad collected maximum points as the only runner in the GTE Pro class. Jonny Cocker and Allan Simonsen, who was brought in to replace James Walker, had a trouble-free run on the way to finishing a lap clear of the GTE Am winner, the Imsa Performance Porsche 911 GT3-RSR shared by Nicolas Armindo, Anthony Pons and Raymond Narac.
Results - 251 laps:

Pos  Cl       Drivers                       Team/Car                  Time/Gap
 1.  LMP2     Pla/Baguette/Enjalbert        OAK Morgan-Nissan     6h00m05.061s
 2.  LMP2     Beche/Thiriet                 TDS ORECA-Nissan         + 21.574s
 3.  LMP2     Firth/Hughes/Hartley          Murphy ORECA-Nissan      + 32.365s
 4.  LMP2     Marroc/Minassian/Sarrazin     Loeb ORECA-Nissan          + 1 lap
 5.  LMP2     Perez Companc/Ayari/Kaffer    Pecom ORECA-Nissan        + 5 laps
 6.  LMP2     Nicolet/Lahaye                OAK Morgan-Judd           + 7 laps
 7.  LMP2     Ordonez/Kimber-Smith/Brundle  Greaves Zytek-Nissan     + 17 laps
 8.  GTE Pro  Simonsen/Cocker               JMW Ferrari              + 19 laps
 9.  GTE Am   Armindo/Narac/Pons            Imsa Porsche             + 20 laps
10.  GTE Am   Perazzini/Cioci/Griffin       AF Corse Ferrari         + 21 laps
11.  LMPC     Dagoneau/Battut/Hartshorne    Boutsen Ginion FLM       + 38 laps

Retirements:

     LMP2     Dolan/Hancock                 Jota Zytek-Nissan         127 laps
     LMP2     Sims/Jousse/Jousse            Status Lola-Judd           45 laps