Sebastian Vettel fears rain will make British Grand Prix 'a lottery'
| | |
| --- | --- |
| By Pablo Elizalde | Saturday, July 7th 2012, 15:12 GMT |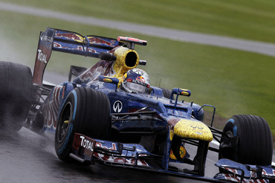 Sebastian Vettel fears the British Grand Prix will be a big lottery if the conditions remain the same for the race as in Saturday's qualifying.
The grid-deciding session had to be red-flagged because of the torrential rain, and Vettel finished in fourth position once it was resumed.
The Red Bull driver believes Sunday's race will be very tough if, as expected, conditions do not improve significantly.
"It could be a big lottery just like today with conditions like that," said Vettel. "It will be a tough day. Now it's raining again and it's probably the same weather tomorrow. It will be a long race."
Vettel thinks he could have gone slightly quicker during Q3, but said he only had one lap when the conditions were at their best.
"Unfortunately in the end it was quite difficult with only one lap when the conditions were probably best," he said. "Not ideal for us in terms of traffic but the lap I had was clean. I had some mistakes. It's the same for all of us. Sometimes it works, sometimes it doesn't."
The world champion also backed the decision to stop the session when it was clear the conditions were impossible to drive in.
"I think it was the right call to red-flag the session. Race direction did well. And then after that I think it was tougher for the people in the grandstands than for us because we are sitting in a dry garage. For them it's a shame but that's how it is. You can't manipulate the weather."