Torrential rain halts British Grand Prix qualifying
| | |
| --- | --- |
| | Saturday, July 7th 2012, 12:59 GMT |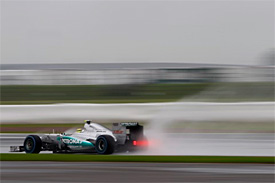 Qualifying for the British Grand Prix at Silverstone has been red-flagged midway through Q2 due to heavy rain at the circuit.
The session started in damp but seemingly improving conditions, only for a downpour to set in just after Q1 had finished.
Although Q2 got underway on schedule, there were soon exhortations from drivers to halt the session amid concerns about the level of standing water.
Michael Schumacher and Fernando Alonso were among those to take trips off the road in the conditions, with the Ferrari driver masterfully avoiding the wall as he aquaplaned into a high-speed spin out of Becketts.
The session was stopped with just under seven minutes of Q2 left. At present, there is little sign of the weather improving in the short term. Sergio Perez is currently fastest for Sauber, ahead of Lewis Hamilton's McLaren and Nico Rosberg's Mercedes.
One result definitely decided is that the second McLaren of Jenson Button will start near the back.
The Briton suffered another Silverstone disaster as his early Q1 time proved only good enough for 18th, and the combination of increased rain in the final sector and yellow flags for Timo Glock spinning his Marussia out of Club left Button unable to improve.