Frank Williams, Martin Whitmarsh and Ross Brawn on panel for next FOTA fans' forum
| | |
| --- | --- |
| By Jonathan Noble | Thursday, June 28th 2012, 12:22 GMT |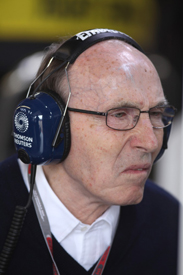 Frank Williams, Ross Brawn, Pastor Maldonado and Martin Whitmarsh are among the guests who are now confirmed for next week's FOTA Fans' Forum at the Williams factory.
The event, which takes place at the Conference Centre at Grove on Tuesday, will also feature appearances on a 'Legends' Panel' with Patrick Head and John Watson in attendance.
The FOTA Fans' events offer a chance for followers of the sport to ask question to some of F1's biggest names - with those lucky enough to get tickets for the Williams event being given the added bonus of being able to view the team's famous museum as well.
Maldonado and Williams will be interviewed on stage, before the panel of team bosses discuss F1 matters with fans.
FOTA has already held events in London, Woking, Montreal, Milan and New York - with further forums scheduled for later this year too.
Only a few tickets are still available for next week's event, with details of how to apply for a place available on the FOTA website.