Schumacher against tyre warmer ban
| | |
| --- | --- |
| By Glenn Freeman | Sunday, June 24th 2012, 08:31 GMT |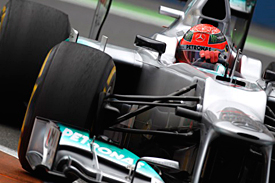 Michael Schumacher has spoken out against a potential ban on tyre warmers in Formula 1.
It emerged earlier in the European Grand Prix weekend that teams have considered banning tyre warmers on cost saving grounds. But Schumacher believes that such a move would be a mistake.
"I think cold tyres are for categories that have low power, maybe Formula Ford, Formula 3," Schumacher said in the Valencia paddock.
"But, quite honestly, Formula 1, being the pinnacle of motorsport, with the power that we have, with the speed that we have... no, I wouldn't like that idea at all, and I don't see a need or reason to do so."
Schumacher's Mercedes team boss Ross Brawn said that he felt it was a difficult situation to judge.
"I think it is a close call whether or not we should use them," said Brawn. "I don't think on cost grounds they are incredibly expensive.
"On a sporting point that's a different matter. Cars going out after a pitstop with tyres still cold, and perhaps not being able to bang in a quick lap to defend their position, trying to build the tyres up, that could be a different issue."