Ferrari's Stefano Domenicali says 2012 F1 title battle boiling down to three-way fight between Alonso, Hamilton and Vettel
| | |
| --- | --- |
| By Jonathan Noble | Tuesday, June 12th 2012, 13:21 GMT |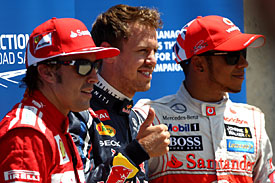 Ferrari team principal Stefano Domenicali thinks the Formula 1 title battle is now boiling down to a three-way fight between Fernando Alonso, Lewis Hamilton and Sebastian Vettel.
Although F1 has had seven different winners in the first seven races - which has never happened before – Domenicali believes that the way the championship is developing means only a trio of men now have a realistic chance.
"I think that at the end of the day, I believe looking at how things are, the championship can be a fight between Fernando, Lewis and Sebastian," he explained.
"That is what I feel but everyone knows something before each race, and then changes their mind after the race. Maybe after Valencia the situation will be different. But honestly, I think the championship could evolve into a fight between the first three drivers."
Although Alonso lost the championship lead to Hamilton in Canada, Ferrari is still upbeat about its overall chances for the championship.
"The car is on the right line in terms of competitiveness and this is the most important thing considering that the championship is now completely open," said Domenicali. "Hamilton is leading and Fernando is second [by] two points, so there is nothing in it.
"The only thing is to keep pushing and to put the performance on the car. Up to the moment where at least we will not be in pole position, we cannot be happy."