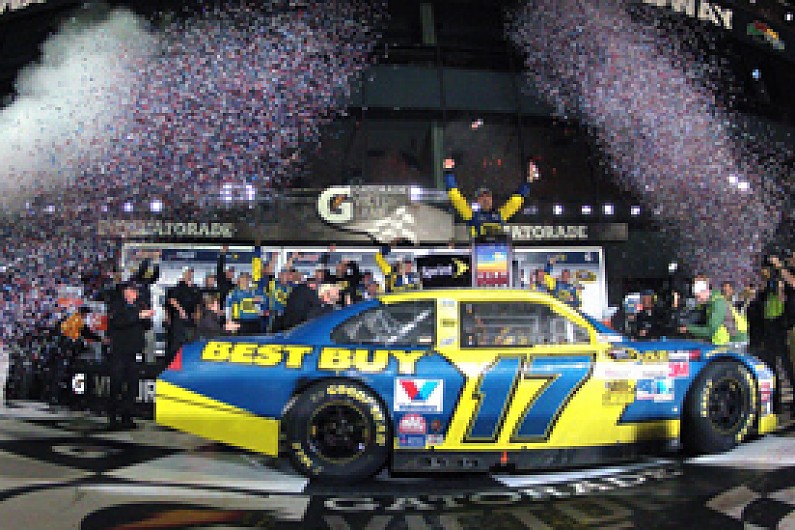 Matt Kenseth rose to an all-time high of 12th in the Castrol EDGE Rankings, and in the process jumped five-time champion Jimmie Johnson, following his triumph in the season-opening Daytona 500.
With Daytona delayed for the first time in its 54-year history, changes to the Sprint Cup Rankings order were postponed until this weekend, when NASCAR also held its second round at Phoenix.
Denny Hamlin therefore also made gains following his win at Phoenix, which also handed him the overall Sprint Cup points lead.
The 31-year-old moved up two spots to 25th, moving ahead of Ryan Newman (27) and Kasey Kahne (26) and onto the coat tails of 2004 Sprint Cup champion Kurt Busch (24).
The gains also pushed Hamlin into the top ten Sprint Cup drivers in the Rankings, although only Kurt Busch and Brad Keselowski are immediately in touching distance.
Kenseth in contrast has now established a small gap between himself and both Johnson - whose current ranking of 14th equals his lowest ever - and reigning champion Tony Stewart (17).
The 39-year-old Roush Fenway driver is now just 28 points behind Kyle Busch (11), the younger Busch brother having lost ground with a 17th place finish at Daytona and a sixth at Phoenix - down on the eighth and second place finished he scored in the respective races in 2011.

Kenseth in contrast crashed out of last year's Daytona and finished 12th at Phoenix, exaggerating his gains in the first two races of this year.
Johnson meanwhile had been set for an even steeper fall down the Rankings after crashing out of this year's Daytona 500, but he salvaged the damage by qualifying and finishing fourth at Phoenix.
Joey Logano was one of the weekend's biggest movers, as top ten finishes at Daytona and Phoenix moved him up 12 spots to 41st - the first time he has been inside the top 50 since last November.
Juan Pablo Montoya's fiery crash at Daytona cost him just one spot in the Rankings, the Colombian's cause aided somewhat by an 11th place finish at Phoenix.
In the NASCAR Rankings he now lies directly ahead of recent convert Danica Patrick (73), who was classified 38th at Daytona and 21st in NASCAR Nationwide's visit to Phoenix.
To see the full Rankings, visit www.castroledgerankings.com.