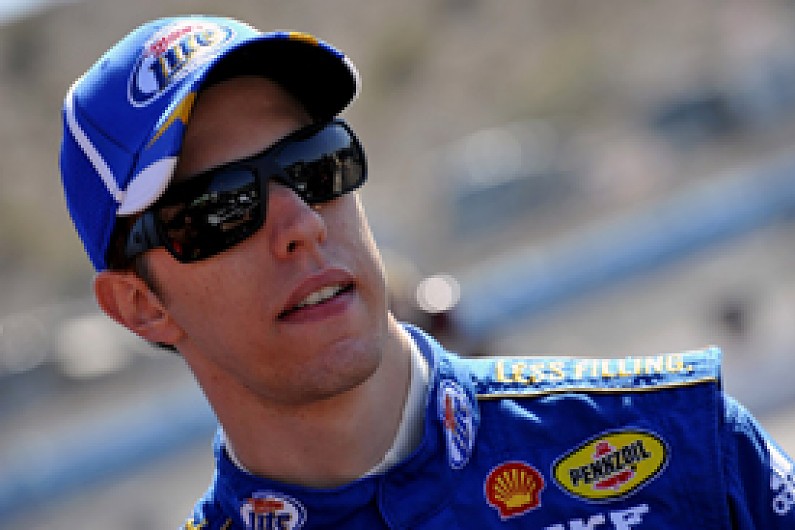 Brad Keselowski has explained that while he was glad his Twitter use during the Daytona 500 red-flag interruption gained him thousands of followers, he actually carries his phone during races for other purposes.
Keselowski caused controversy by tweeting while in his car during a red flag in Monday's NASCAR Sprint Cup Series season-opener.
The Penske driver explained that he had carried his phone with him in the racecar since he had an accident at Fontana back in 2007 while competing in the Nationwide Series for Dale Earnhardt Jr's team.
He said at the time he did not have a phone with him and was unable to reassure friends and family who had seen his fiery crash on television and learned he had been airlifted from the track.
Following that incident, last year he had his phone at hand immediately after his testing crash at Road Atlanta and said it made a difference in keeping his family informed of his status. Back then he also tweeted pictures of some of his injuries.
"At Road Atlanta, I got into another serious accident and again got airlifted off and the difference was that I had my phone with me," said Keselowski. "And I had my phone with me because testing really gets boring, monotonous. You sit in the car for an hour while they make a change. So I go through the incident and so forth and they put me on a helicopter and all that same stuff.
"I have my phone with me and so I just send a message to my Mom like 'Hey, just want you to know that you're going to read this in the news, but I think I'm okay.' And so that kind of put the fire out before it really got started and I think she really appreciated that.
"It put me at a lot more ease because when I got to the hospital and there was nobody there I knew how far away they were and I could hit Google Maps and figure out where I was. So from that moment on, I decided I was going to keep my phone with me in the racecar.
"I know that's probably not where you thought I was going with that story, but there was actually a practical purpose to having it with me. So I had a pocket put inside my car to be able to keep it there.
"I didn't put it in my car thinking that we were going to have a red flag at Daytona for a guy hitting a jet dryer and causing an explosion... I didn't have that much foresight. That was kind of how the story all played out. You just can't plan moments like that. They just happen."
While Keselowski was happy to hear NASCAR's reaction to his twitter use, which including the governing body encouraging drivers to interact more in social media, rivals like Kevin Harvick did not seem to be in favour of drivers being able to have their phones in their racecars.
He joked he has already looked for phone applications which may be of use, so that NASCAR reviews its position on the matter.
"To be honest with you I had no idea that was something that would even remotely come into play as far as keeping your phone in your car during a race," said Harvick. "But I guess if you're going to keep up with that side of it, you're going to have to.
"I'm going to look for every app I can for mile-per-hour, GPS mapping, and anytcing I can find to put in my car. I'm looking for it because I'm looking to outlaw this rule as fast as I can because I don't want to have to keep up with it."
He added: "I have found a mile-per-hour app, so that'll be good down pit road!"
Dieter Rencken analyses the implications of Keselowski's Twitter use for Formula 1 in his column for AUTOSPORT Plus subscribers