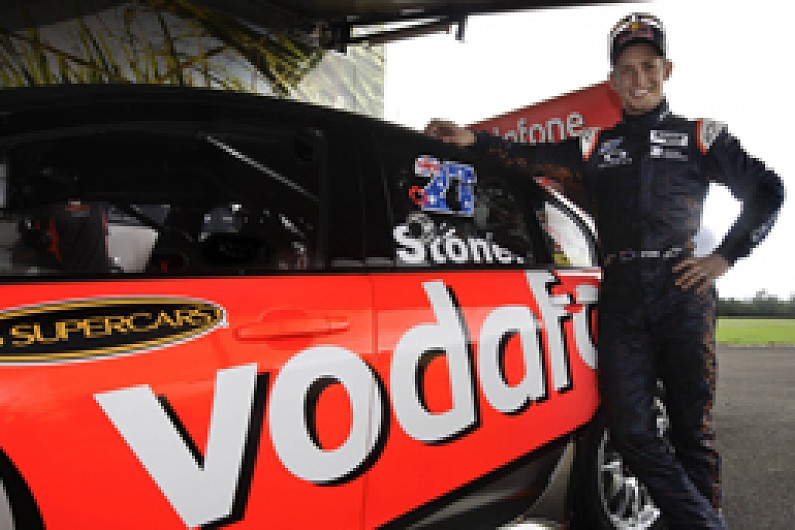 MotoGP world champion Casey Stoner tested Craig Lowndes' Triple Eight Holden V8 Supercar at the Driving Centre in Norwell, Queensland, yesterday - and convinced the team he could be very competitive should he ever switch to four-wheeled motorsport.
The Australian drove the car that Lowndes had taken to victory in the season finale in Sydney a fortnight ago, and quickly acclimatised.
"In its own ways the track feels narrower especially going into the left hand corners," said Stoner. "With these cars you can use actually quite a lot of the track so that can feel a little similar to being on the bike.
"With everything I am learning today, I have to forget everything I know about bikes and change to learn to drive these, and it is the same thing going from cars to bikes.
"[It's] something I have wanted to do since I was quite young actually and the opportunity to finally get in one and have a go is something pretty special to me. I am enjoying it."
Series champion Jamie Whincup said being present for the test was eye-opening for him as well.
"It is crazy to hear and talk about the differences between going fast on two wheels to four wheels," said Whincup.
"Simple things like how you control the clutch is so much different in his world compared to our world. It is a good learning experience and it is good to have that knowledge from both sides."
Team boss Roland Dane was impressed with Stoner's performance.
"I see no reason at all why Casey shouldn't be very competitive in a V8 Supercar," said Dane.
"When you have spent most of your life away, chasing your dreams you have to work pretty hard at it. I think Casey has developed a steely determination to succeed at anything he does.
"It is in his hands. If he wants to drive a V8 Supercar one day I suspect he will end up doing it."