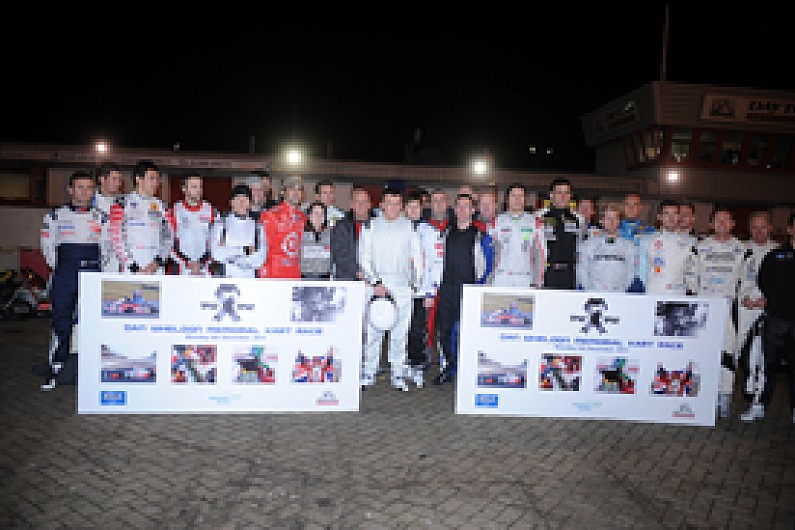 The cream of British motorsport talent raised around £20,000 for the Alzheimer's Society as they came together to celebrate the life of Dan Wheldon in a charity karting event at Daytona Motorsport's Milton Keynes venue in the UK on Monday night.
The over-subscribed event, organised by Wheldon's friend and Lotus GT racer Johnny Mowlem, was won by 2009 Formula 1 world champion Jenson Button, who shared a kart with Wheldon's father Clive in their DW Lionheart team.
Button and Wheldon were assisted in no small part by the Cash for Penalties system - which allowed teams to pay bribes to make sure their rivals were black-flagged and docked laps - and justifiably so.
It also ensured not only that another team featuring Dan's sister Holly and his former team-mate Dario Franchitti finished second but that Anthony Davidson's team was kept well down the order!
The system added to a sense of fun and mischievousness that coloured the well-attended, two-hour race. It was one that Wheldon would have enthusiastically approved and used to his own advantage!
Each of the 36 teams entered featured a star driver and alongside Button, Franchitti and Davidson the huge list of famous names also included Martin Brundle, Johnny Herbert, Mike Conway, James Hinchliffe, James Thompson, Nicolas Minassian, David Coulthard and Rob Huff.
"I said all along that I didn't want it to be competitive. I wanted it to be fun and for everyone to enjoy the memory of Dan and come together as friends - it was better than I could ever have hoped," said Mowlem.
"I've been overwhelmed by the level of support from everybody; not just the drivers, but the whole motorsport community. Everybody I asked got involved and it's a testament to Dan that so many people took part and came along and watched.
"You could feel the warmth of feeling and I have never been to an event like that. The atmosphere did Dan proud and would have really touched him had he been there.
"The highlight for me was seeing Clive and his family smiling, and being happy during the race. I wanted it to be a happy event, rather than a sad one."
AUTOSPORT was also represented in a team that featured Lotus GT driver and Sky pundit James Rossiter and finished 15th - though we were unable to confirm at the time of writing whether or not the Cash for Penalties system contributed to the result...