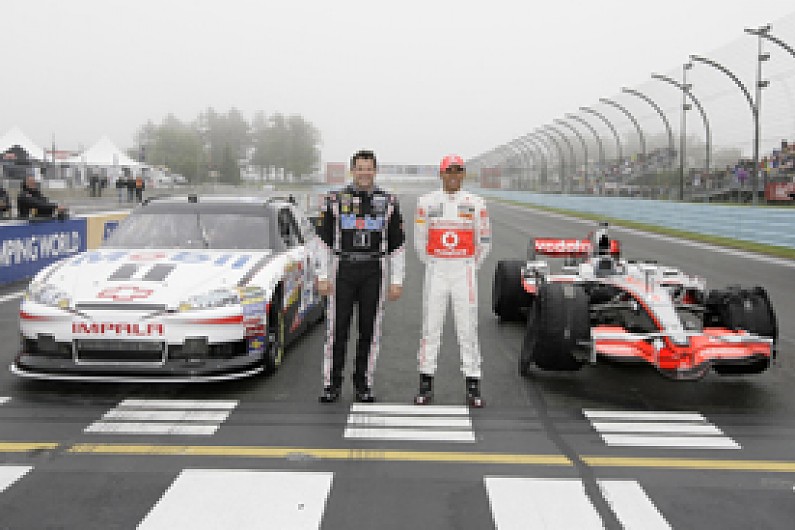 McLaren's Lewis Hamilton and NASCAR star Tony Stewart said they both enjoyed their car swap on Tuesday on a damp track at Watkins Glen International.
The 2008 Formula 1 world champion was the first to take a few laps around the 3.4-mile road-course, having previously given the McLaren MP4-23 a shakedown while getting a first impression of the track. Hamilton ended his run with a burnout on the front stretch before attention turned to two-time NASCAR Sprint Cup Series champion Tony Stewart, who drove the McLaren on rain tyres as the track had not fully dried.
After completing the swap, Hamilton said his first experience of NASCAR made him quickly leave his bad Canadian Grand Prix weekend behind.
"I just felt like a kid today," said Hamilton. "It's good to be a kid again. It's like when I used to do go-karting I used to have so much fun.
"Whilst driving a Formula 1 car is very fun, the competitive side of it is so serious, whereas today I think, after even such a tough weekend... I was already still also feeling the tough weekend this morning. But as the excitement built up and when I got in the car, once I got out I forgot about last weekend.
"And I was just saying to Tony it would be quite cool - in the old days they used to have drivers who were able to do different races in different classes week after week. And I said if you wanted to come and drive a Formula 1 for a weekend and see how it went and then vice versa... I know that's not possible nowadays but it would really be cool."
The 26-year-old admitted he was impressed by the braking of the heavy Chevrolet Impala as he tried to push its limits despite the damp conditions. He said he felt comfortable enough with the power and grip available given the conditions, apparently enjoying the experience enough to drift the car sideways in the turns.
"I think it's three times the weight of a Formula 1 car, but actually [the Cup car] doesn't feel that heavy," said Hamilton. "The brakes were surprisingly good and Tony was telling me where they usually brake in the dry and I don't think I was braking too far away from it with the damp conditions. I was braking early thinking, 'this car is not going to stop' and in actual fact I could brake a lot later.
"Whilst on the TV it looks like I was drifting all the time, I don't feel like I was drifting the car. It felt quite a stable rear end. I was picking the power and the grip was quite good through all the corners.
Stewart was impressed with the braking power of the McLaren as well and admitted he probably did not push it close enough to what he felt was its full potential. He said having driven the car he now understands why overtaking is so difficult in F1, as braking distances seem minuscule compared to when driving a stock car.
Despite winning five times at the Glen in NASCAR, it was only the first time Stewart had driven the long configuration of the track, as NASCAR races on the shorter 2.4-mile version.
"I have a background from IndyCar racing so I'm familiar with downforce but not at this level of downforce and I've never driven [an IndyCar] on a road course," said Stewart. "But I think probably the thing that stood out the most was just how incredibly efficient and good the brakes are and how far you can go.
"I never got to the full potential of what the car is capable of doing in a braking zone but it's just amazing how far you can charge the corner and it's easy to see why it's hard for these guys to overtake because is not a long distance from the time you get out of the throttle and on the brakes to where you're changing direction.
"It gives you a much greater appreciation for how hard is for these guys to overtake each other and what that car is actually capable of. It's just incredible the technology behind it."
The 40-year-old, who was Indy Racing League champion in 1997 before his stock car career, joked that he would need to shed some weight if he was to really push the McLaren to its limits, admitting he took a very cautious approach to his short stint in the machine Hamilton used for his 2008 world title.
"Well the first think I'd have to do is lose about 25 pounds right off the bat," said Stewart. "I would actually have to go and work on the gym again. But what I think the limit [of the car] is, is probably - the reality of it is probably further that what I still imagine it is.
"I know I could not reach the potential of what that car is capable of doing, but you don't want to make a mistake, you don't want to find that you're five per cent over the limit and put yourself on a bad spot. It's incredible how well these cars handle.
"Obviously being out on rain tyres they're a really grippy tyre and if you run them more than three or four laps [in the damp] you'd probably have a handful but just had a tonne of grip. I don't know, I would say I was running probably 80 to 85 per cent of my potential - or what I think my potential would be.
"Now the car is probably 20 per cent more than that on top of it so you definitely would have to learn it. There's no way you're just going to jump on these cars and get to the calibre of what those can do."
The car swap between Hamilton and Stewart was organised by Exxon Mobil, a sponsor for both Stewart Haas Racing and McLaren. It came nearly eight years after Juan Pablo Montoya, now a stock car driver, swapped his Williams-BMW FW24 F1 car with the NASCAR Chevrolet Monte Carlo of four-time Cup champion Jeff Gordon at Indianapolis.