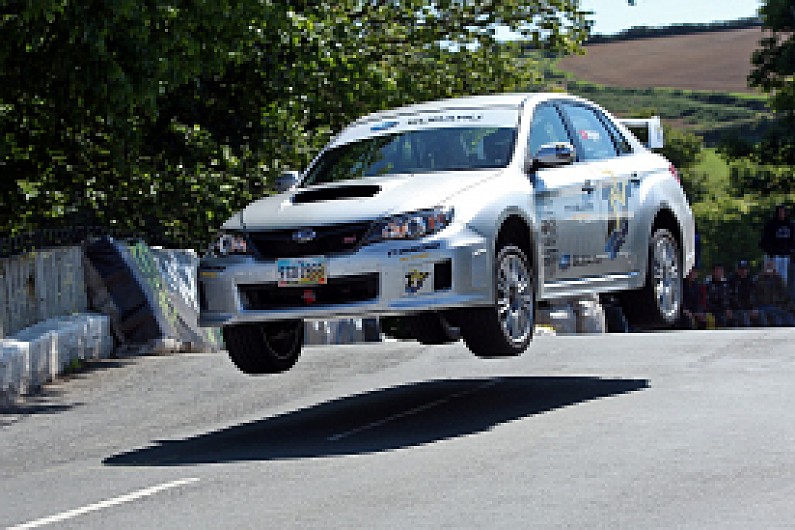 Three-time British Rally champion Mark Higgins has posted a new lap record for the Isle of Man TT course, the Manxman rounding the 37.73-miles course in just under 20 minutes in a Subaru Impreza on Monday.
The Manxman averaged 113mph through the 200 corners, smashing the previous four-wheeled lap record - a shade over 100mph - held by Tony Pond in a Rover 800. Higgins will have two more attempts at the world-famous circuit on Wednesday and Friday as he seeks to further improve his record in the lightly modified Impreza.
Higgins said: "You've got to respect the course and I'm glad to get the first lap in. I know what the car does now, particularly in the big corners and it will be interesting to see what we can do with slicks on.
"The whole thing's pretty special really, with all the people around the course. Once I got into it, I started relaxing after I took some of the big corners fast. I was a bit nervous before I got there but I got into my stride."
Higgins admitted that there was more time to come, having made a mistakes in a couple of sections.
"It was a bit scrappy in places," he said. "I know we can go quicker. I made a real mess of a couple of the tight corners, where I was struggling to get the car slowed down. Ramsey was a nightmare - I missed a load of gears but I think there is more to come on the next go."
As hugely impressive as Higgins' effort is, he remains slower than John McGuinness's record on two wheels. In 2007, McGuinness lapped the course in 17m21s (compared with Higgins 19m56s) at an average speed of 130.354mph.