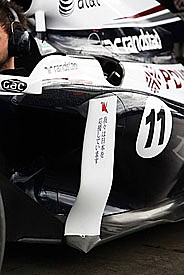 Formula 1 team body FOTA has announced that all the cars will all run bespoke stickers as a mark of respect to the victims of the recent Japanese earthquake and tsunami, during the Australian Grand Prix.
Elsewhere members of the Japanese media have placed a collection in Red Bull's hospitality area, while Jarno Trulli, Michael Schumacher and Jerome d'Ambrosio are carrying tributes on their helmets.
Felipe Massa was one of several drivers who said that the events in Japan were very much on people's minds in Melbourne.
"I am praying every night for them because it was really a disaster," he said on Thursday. "To see what is happening, you don't even see that in the movies, so it was really unbelievable.
"I am praying for them and also I heard that FOTA maybe are organising a charity and I think we need to do everything for them because they are suffering a lot.
"It was really amazing to see what has happened, so I will keep praying for them and try to do everything I can to help them."