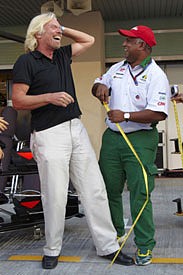 Tony Fernandes and Richard Branson are planning some 'crazy ideas' for the charity flight the pair are putting on early next year as a result of the best of the new teams bet they waged for 2010.
Branson and Fernandes made a deal before the start of this season that they would serve as an air stewardess on the other's airline if their team finished behind in the Constructors' Championship.
Branson's Virgin Racing outfit duly lost - and the entrepreneur has now agreed a February 21 date for when he will serve on an AirAsia flight from London to Kuala Lumpur.
Fernandes has said the pair are working on some exciting plans for the flight, with seats due to be auctioned for charity.
"We have some crazy ideas," Fernandes told AUTOSPORT. "We've been in email contact and I have suggested we have Boy George as a DJ on the flight.
"We will make it a party flight, and auction seats for charity, so we may as well go the whole hog by having 12 hours of memorable experiences and fun.
"I think the creative juices are now working between AirAsia X and Virgin - and Richard and I, being the characters we are, we will inject unique things into it to make it a special flight."