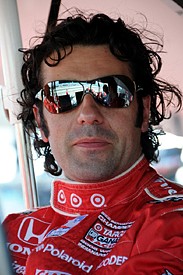 Only a victory at Toronto this weekend will prevent IndyCar Champion Dario Franchitti from losing ground in the Castrol Rankings.
The British driver started from pole at Toronto last year and led more than half the race on his way to a dominant victory.
Because of that, he is defending a near-perfect Castrol Rankings score from the 2009 event. Failure to repeat his win could result in him falling from his current seventh place.
Should his Chip Ganassi team-mate Scott Dixon (10) and Team Penske's Ryan Briscoe (9) each finish on the podium, both could push him to the tail end of the top 10.
One man that should benefit hugely is Helio Castroneves (25), who only needs to make the finish to boost his score, and who could climb into the top 20 with a victory.
Alain Menu has overturned a terrible start to the World Touring Car Championship and recovered to 126th in the Castrol Rankings - exactly where he was a year ago.
He has won at Brands Hatch - the scene of this weekend's round - four times and another victory could elevate him around 10 places.
Leading the championship is his Chevrolet team-mate Yvan Muller (81), but he has a lot of work to do to get on terms with champion Gabriele Tarquini (49) in the Castrol Rankings.
The Algarve Le Mans Series race will give ORECA Peugeot drivers Stephane Sarrazin (196) and Olivier Panis (191) the chance to make up ground too.
Things look more difficult for last year's winners Jean-Christophe Boullion (417) and Christophe Tinseau (711) though. While Boullion at least has a chance to repeat his victory for the Rebellion Lola squad, Tinseau is not racing.
Having fallen over 400 places since June, the Frenchman will drop outside the top 1200 come next week.
To see the full Castrol Rankings, go to www.castroldriverrankings.com