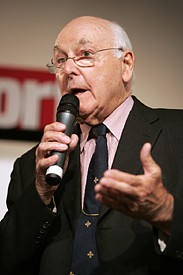 Legendary motorsport commentator Murray Walker has joined forces with the Castrol Rankings for an exclusive Vodcast ahead of every grand prix.
Starting this week, Murray Walker Grand Prix with Castrol Rankings will bring you up to date with the latest news from the top level of motorsport and will take a look at the movers and shakers in the Castrol Rankings.
In this week's inaugural edition, Murray kicks off with an in-depth guide to the Montreal circuit that will host the Canadian Grand Prix as it returns to the F1 calendar this weekend.
He also profiles seven-time World Champion Michael Schumacher and casts an eye on the German's progress in the Castrol Rankings.
To check out the Vodcast, click here.