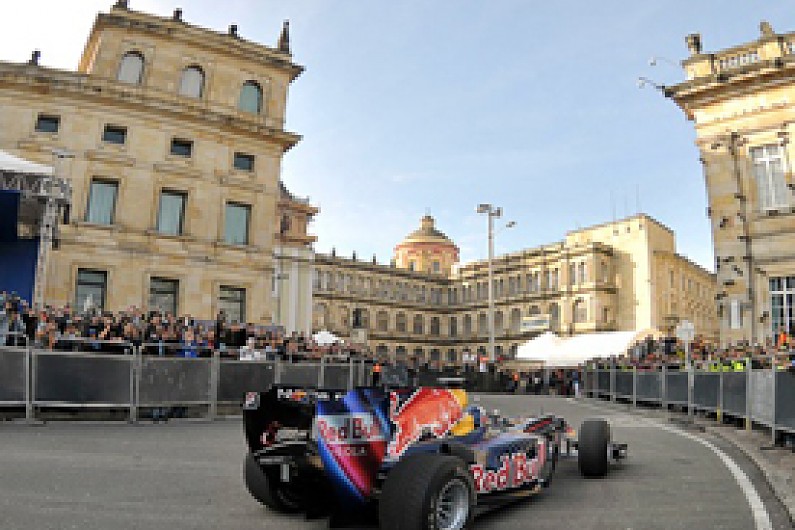 David Coulthard starred in a early morning demonstration run for Red Bull Racing on the streets of Bogota in front of a crowd of nearly 100,000 on Saturday.
Despite the event starting as early as 6.30am local time, fans filled the sidewalks on both sides of the Seventh Avenue even before the engine was fired up for the first time at the Plaza de Bolivar.
Coulthard performed three runs in front of the cheering fans and was surprised by the response from the people despite the early hour.
He said he struggled for power to spin his car around a few times partly due to the altitude of Bogota, where engines can lose up to 35 per cent of their output.
"I was impressed with the amount of people so early in the morning," said Coulthard. "Unfortunately we had a little issue with the altitude and the engine running cleanly. I was struggling a bit with the power to do the doughnuts.
"But I really enjoyed my time in Colombia. The public have been very warm and very friendly. I was impressed with how clean the streets are. Maybe the roads are a little bit bumpy, but otherwise there was a very nice feeling here. I definitely take away very positive feelings from my trip here to Bogota.
"Previously my only experience of the country was Juan Pablo Montoya but now I have my own personal experience, which is fantastic."
The Scot will be back in the Formula 1 paddock next weekend to fulfill his BBC commitments. A week later he is set to make his return to competition with his DTM debut at Hockenheim.