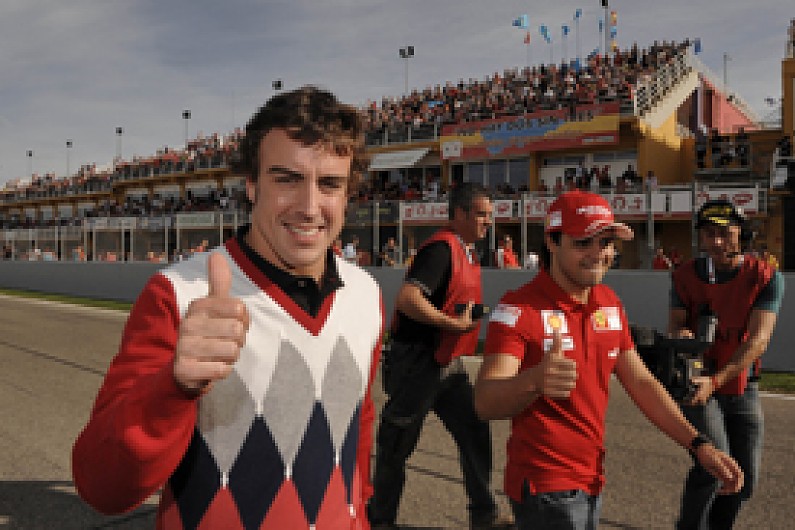 Fernando Alonso has made his first public appearance as a Ferrari driver at the Italian company's World Finals event at the Valencia circuit in Spain.
The double world champion was given permission by current employer Renault - which he remains under contract to until the end of the year - to attend the meeting alongside his 2010 team-mate Felipe Massa and test drivers Luca Badoer, Marc Gene and Giancarlo Fisichella.
Approximately 17,000 spectators came to Valencia for the event, which featured the final rounds of Ferrari's various international one-make and historic championships as well as Formula 1 demonstrations, although Alonso was not involved in the latter. He did feature in a bizarre moment when Ferrari chairman Luca di Montezemolo got the sportscar he was chauffeuring Massa and Alonso in stuck in a gravel trap while trying to get as close as possible to the fans in the stands.
Alonso said attending the World Finals had given him an early taste of Ferrari life and the passion of the team's fans.
"This is a very important day for me, because here I can understand what the world of Ferrari is really like," he said.
"In 2010 I hope to fight for the world title together with Felipe and that all the fans can be proud of us and our professionalism."
The event also saw Massa get back behind the wheel of this year's F60 F1 car for the first time since he suffered severe head injuries in his Hungaroring qualifying crash. The Brazilian's recent tests had taken place in a 2008 car due to the testing ban, which did not cover this demonstration event.